Noise reduction technology ensures crystal-clear sound
With replaceable rechargeable battery
With advertising paper position
Working distance of 200 m/656ft
Transmitter works for 10h, the receiver works for 13h
Transmitter supports simultaneous use of microphone and AUX input
Only
39996
left in stock - order soon.
○The US version and EU version are only different in the frequency range, and their product appearance and function are the same.
TT116 audio tour guide equipment has a number of functions to enhance the tour experience:
Seamless audio experience
The TT116 tour guide system uses UHF frequency transmission, which is highly resistant to interference, sends out a stable signal, and receives continuous information with clear sound quality. another advantage of UHF transmission is the high penetration power, for indoor tours, such as museum visits or factory tours, where the sound can often be heard through walls. In addition, the noise reduction technology of this tour guide system filters out background noise, ensuring that the audio transmitted to the listener is clear and easy to understand, which is particularly useful in noisy tour environments, such as crowded museums or busy city streets.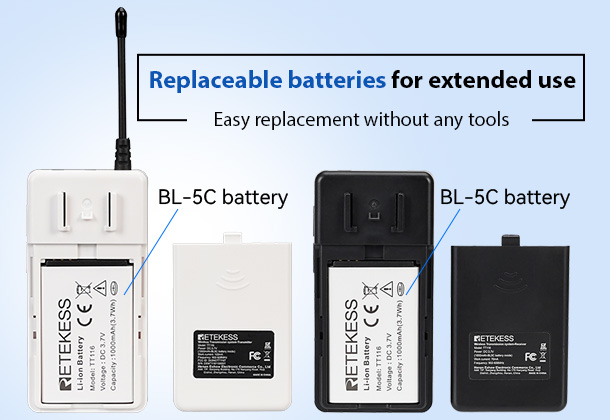 Replaceable Rechargeable Batteries
The audio guide device is equipped with replaceable rechargeable batteries, so guides can easily change the batteries and continue using the system without interruption. This is especially useful for longer trips or multi-day trips that require continuous power.
Features an advertising paper location
TT116 audio tour guide equipment has a dedicated location for advertising stickers. This feature enables tour operators or businesses to attach promotional or relevant information to the device, thus effectively advertising their services or providing additional information to visitors.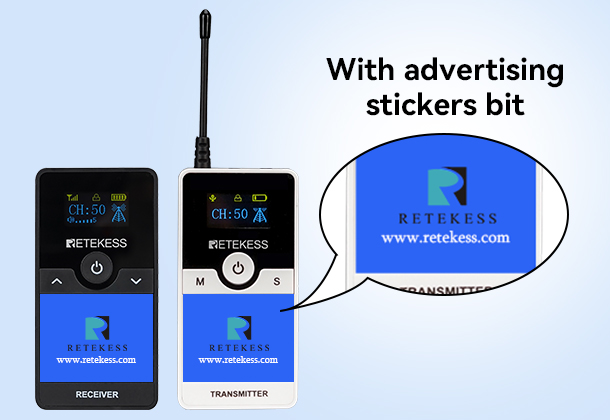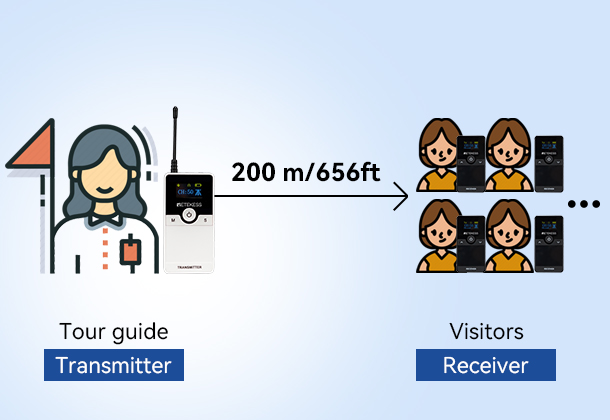 200m working distance
The wireless tour guide system provides a generous working distance of 200 meters, allowing tour guides and tourists to maintain seamless, uninterrupted communication at a considerable range. This feature is particularly beneficial in situations where tours may be dispersed, such as outdoor tours or large attractions.
Long Standby Tour Guide System
Tour guide systems have an impressive battery life, with the transmitter operating for up to 10 hours and the receiver for up to 13 hours on a single charge. This ensures that both guides and visitors can use the system all day without worrying about running out of batteries, making it ideal for all-day tours or multi-stop tours.
Supports simultaneous microphone and AUX use
The transmitter can use both microphone and AUX inputs. This means that the guide can connect an external audio source such as an MP3 player or smartphone to supplement the narration with pre-recorded audio or background music. This feature adds versatility to the tour guide system, enhancing the overall visitor experience and enabling the guide to provide a more engaging and immersive tour.
50 channel IDs
TT116 museum audio guides provide 50 channel IDs, allowing 50 tour groups to use the device to guide tourists at the same time without interfering with each other. In tour scenarios, this feature allows different tour groups or groups with different languages to have their own dedicated communication channels to ensure organized communication.
Automatic locking
To prevent accidental touching or interference, the transmitter, and receiver will automatically lock if they are not used for a minute. This ensures that channel settings are not accidentally changed or interrupted during the tour, resulting in a worry-free experience.
One-touch mute
The transmitter supports a one-touch mute feature that allows the guide to temporarily mute the microphone without turning off the tour system. This is useful in the following situations: when the guide needs to have a private conversation or take a break from keeping in touch with visitors, facilitating the guide's privacy and rest during the tour.
One-touch pairing
The transmitter supports a one-button quick pairing feature, which simplifies the process of connecting the transmitter to the receiver without complicated pairing steps, and this feature minimizes setup time.
One-touch shutdown of co-channel receivers
The one-touch shutdown feature allows all receivers operating on the same frequency to be turned off simultaneously. This feature allows you to easily shut down the audio tour guide equipment at the end of the tour, saving you time and effort.
Please fill in your procurement needs and contact information
TT116 Transmitter

TT116 Receiver
Frequency range

902-928mhz

Frequency range

902-928mhz

Channel
50 channels
Channel
50 channels
Working current
70mA
Working current
70mA
Operating voltage
DC 3.7V
Operating voltage
DC 3.7V
Transmitted output power
25-30dBm
Audio frequency output
3.5mm earphones
Audio frequency input
3.5mm line /Microphone input
Received power
-106dbm
Degree of distortion
<5%
Degree of distortion
<5%
Effective working area
200m (empty)
Effective working area
200m (empty)
Capacity of battery
1000mAh
Capacity of battery
1000mAh
Working hours
About 10 hours
Working hours
About 13 hours
Size
114.8x54.8x20.6mm
Size
114.8x54.8x20.6mm
Weight
65g
Weight
56g
Package Includes:
Classification of packages
package includes
1TX+6RX

1x TT116 transmitter

6x TT116 receiver

1xLavalier microphone

6xsingle ear headphones

7x charging cable

7 x Lanyard

1x User manual
1 TX + 10 RX

1x TT116 transmitter

10x TT116 receiver

1xLavalier microphone

10xsingle ear headphones

11x charging cable

11 x Lanyard

1x User manual
1 TX + 15 RX

1x TT116 transmitter

15x TT116 receiver

1xLavalier microphone

15xsingle ear headphones

16x charging cable

16 x Lanyard

1x User manual
1 TX + 20 RX

1x TT116 transmitter

20x TT116 receiver

1xLavalier microphone

20xsingle ear headphones

21x charging cable

21 x Lanyard

1x User manual
Q: How does an audio tour guide equipment work?
A: An audio tour guide equipment operates by the transmitter broadcasting the audio content, which is then received by participants using individual wireless receivers or devices such as headphones or earpieces. The tour guide speaks into a microphone connected to the transmitter, and the participants can adjust volume levels and listen to the audio in real time.