TT112 TT111 wireless ear-hook tour guide system includes 2 transmitters, 30 receivers, 1 32-port charging case
The Earhook receiver is lightweight and compact, suitable for both left and right ears
Transmitter working range up to 200 meters
Wireless transmitter with a dedicated AUX port for connecting audio devices
Transmitter charging 5 h, working 10 h; receiver charging 2 h, working 8-9 h
Aluminum charging case is not only convenient for charging, but also a good helper for carrying.
Only
194
left in stock - order soon.

One-button automatic pairing
TT112, TT111 wireless tour guide system supports automatic channel synchronization, you can synchronize the channels of the transmitter and all receivers in five seconds, with no need to set the channels of receivers one by one. This saves you a lot of time and improves work efficiency.
Transmitter mute function
After pressing the mute button, the receiver can't hear any sound from the transmitter. If the speaker of the tour guide or conference encounters receiving an emergency call, sneezing, or other situations not related to the speech while he is speaking, and he does not want to transmit these sounds to the receiver, then he can press the mute button. Cut off the transmission of sound with the receiver. Resuming sound transmission is also easy, just hit the mute button again.
Long-distance tour guide headset system
The communication distance between the TT122 transmitter and the tt111 receiver is two hundred meters. Within the range of two hundred meters from the transmitter, visitors can easily hear the guide's voice. Even if you have many visitors or a large range of activities, there will be no dropout situation.
Ear-hook receiver
TT111 receiver weighs only 38.6g, which means it is very comfortable to wear on the ear. And it is universal for the left and right ears, suitable for people with hearing impairment in one ear. In addition, compared to the in-ear type, the in-ear receiver is more clean and hygienic, easy to clean.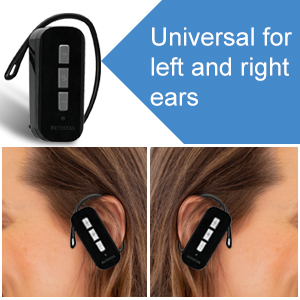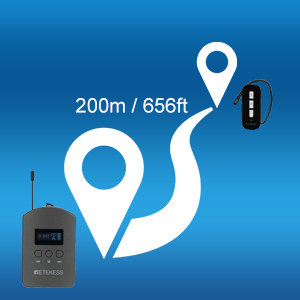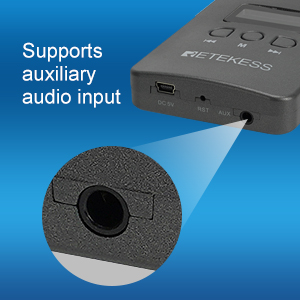 Auxiliary audio input
The wireless transmitter with a special AUX port can be connected to the computer, cell phone, MP3, radio, and many other external audio devices, you can play background music or other voice files for your visitors through this function.
Durable charging box
The matching 32-port charging box can charge two transmitters and 30 receivers at the same time, and only need to connect with a power cord. This can avoid the risk of wire tangling and touch, and also make charging more convenient. And it can also be used as a storage case, with a handle, very easy to carry.
Turn off all receivers with one click
When you have multiple receivers, turning them off one by one is a huge waste of time. Even if you let your visitors turn off the receivers in their own hands when the event is over you still need to check one by one if they were really turned off. This feature allows you to turn off all the receivers on the same channel as the transmitter in five seconds, very convenient, isn't it?
Thoughtful accessories
The portable transmitter leads to a clip-on microphone, which frees up your hands compared to a handheld microphone; compared to a headset microphone, it doesn't appear to make you feel uncomfortable after wearing it for a long time. In addition, each device is equipped with a stylish lanyard, users can hang their devices around their necks, both to prevent the device from falling, but also to give you more freedom for your hands.
Applicable scenes of the wireless ear-mounted tour guide system
Tour groups
The tour guide only needs to speak into the transmitter's microphone, even if the surroundings are noisy, even if there are many visitors, or if they are in a very large museum. The guide will also be able to deliver instructions to every visitor.
Meetings and teaching
In a meeting, if the presenter speaks at a normal volume, then the audience far away from him may not be able to hear him clearly; if he speaks at a very high decibel level, then the audience closer to him will feel noisy, and speaking at a high volume for a long time will make the presenter feel uncomfortable in his throat. The wireless tour guide audio system allows the presenter to speak at a normal volume but can deliver the voice clearly to every participant.
Please fill in your procurement needs and contact information
TT112 Wireless Transmitter

Frequency Range

863-865mhz

Charge time

5H

ID Number

36

Working time

10H

Supply Voltage

DC3.7V

Battery capacity

3.7V/1900mAh

Transmitting power

≦50mW

Charge Jack

MINI USB

Frequency stability

±0.001﹪

Modulation frequency deviation

±320KHz

SNR

90dB

Working current

320mA

Size

150*65*15mm

Communication range

200m (open air)

Weight

128.6g

Charging voltage

DC5V
TT111 Wireless Receiver

Frequency Range

863-865mhz

Working time

8-9H

ID Number

36

Battery capacity

3.7V/520mAh

Supply Voltage

DC3.7V

Charge Jack

MINI USB

TIS

-90dBm

Modulation frequency deviation

±Working 320KHz

Frequency stability

±0.001﹪

Working current

68mA

SNR

80dB

Standby current

1mA

Size

60*48*20mm

Charging current

320mA

Weight

38.6g

Communication range

200m (open air)

Charge time

2H

Charging voltage

DC5V
TT005 Portable 32 Slot Charge Case:

lnput : AC110-220V, 50/60Hz

Output: DC 5V, 7A

Size: 310 x285 x 140mm

Weight: 2350g
Package Include:
2 x transmitter

2 x mic

30 x receiver

2 x lanyard

32 x charging cable

1 x charging case
Q: How can I mute the transmitter temporarily without unplugging the microphone during a speech (e.g. when someone is speaking to the speaker)?
A: In the case of the normal operation of the transmitter, short press the mute button "+", and the transmitter mutes, then the antenna icon on the screen into a mute icon, the receiver can not hear the speech; short press the mute button "+" again to resume speech, mute icon into the antenna icon, a receiver can hear the speech again.
Q: What frequency does this tour guide system operate on?
A: It has two versions, American and European, the American version of the tour guide system is 902-928mhz, and the European version of the tour guide system is 863-865mhz, it is legal and free to use, and no license is required.
Q: What remote transmitters can I purchase to use with these receivers and can the Retekess FM transmitter be used with these?
A: Unfortunately, the Retekess TT111 receiver can only be used with the Retekess TT112 transmitter or TT113 transmitter, it cannot be used with other models of tour guide system transmitters or FM transmitters.
Q: How to clean and disinfect the headset after use?
A: You just need to wipe it gently with a cotton cloth or cotton swab dipped in alcohol.