TD018 table call button has 5 main functions: RFID, order, call, pay and cancel
Stable signal and range up to 200m in the open area
The call pager is powered by a 4pcs 1.5V AAA battery and is very easy to change
Easy to replace the advertisement paper for your own business
Ideal for restaurants, bars, cafe shops, SPA, factories, and so on
Only
3998
left in stock - order soon.
TD018 wireless call button

with 5 functions,

ideal for

restaurants, cafes, SPAs, salons, bars, and so on.

The advantages of using the
table call button are

faster service, increased table rotation, greater customer satisfaction, and increased overall revenue
The most important function is the RFID, this function is only effective while working with the TD124 host display receiver calling
system. The special

function for the TD018 call button is that it allows the manager to distinguish which staff provides the service and
for how long time. Great tool for staff

appraisal
5 Key Functions
There are Call; Cancel; Pay; Order and RFID functions to choose from; Quickly determine the actual needs of customers and provide timely service

Durable Use

The call button is made of high-quality PC material, durable enough for daily use
Stable Signal and Long Working Range
The call buttons are made of the advanced chipset to increase the emission distance and can reduce signal interference. Range up to 200m in the open
area

Replace Front Logo Freely
The advertising paper is very easy to replace from the acrylic plate, you could change it to the special offers or your own logo freely.
TD018 Call Button powered by 4 pcs 1.5V AAA batteries
The call button with long standby time and batteries are easy to install and remove. You just need to replace the batteries once the power runs out
instead of replacing the whole call button.
Solution: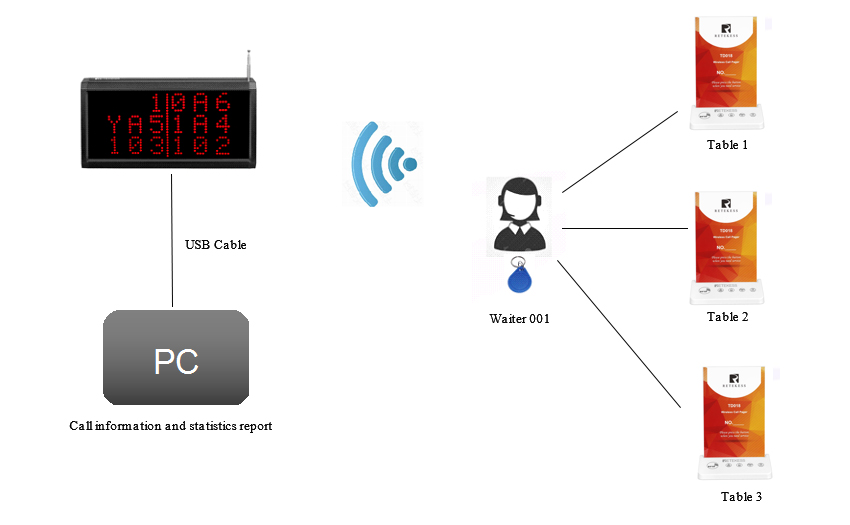 Please fill in your procurement needs and contact information
TD018 Table Call Button Specification:
Dimension: 130*70*190mm
Material: PC
Fx Frequency: 433MHz
stand-by current: <5uA
Working current: 13±3mA
Operating Voltage: DC6V(1.5V*4 AAA battery, includes)
Advertising paper size: 16.5cm X 11cm
Package Includes:
TD018 Call Button×1
Acrylic plate ×1
Advertising paper ×1
RFID card ×1
AAA Battery×4
Q: Which receiver can be used with the TD018 table call button?
A: All Retekess wrist watch receiver and host display receiver work with the call button
Q: What's the function of the RFID function used for?
A: If you have more than one staff, you could give each staff an RFID card, then you will be able to statistics of the service level of each staff with the
software which comes with the TD124 host display receiver. This function is only effective while working with the TD124 calling system.
Q: If the advertising pager is replaceable?
A: Yes, you just need to remove it from the crystal acrylic plate, then add your own business information to it. Let customers know more about yours
while waiting for the order to deepen the impression.