Retekess T128 can support 999 channels, so you can buy as many buttons as you need
LED display, showing time,battery, date, singnal
bulid in DC3.7V rechargeable Li-poly battery, long standby time
Receiving sensitivity value can be -108dBm,stable singnal
2 work mode:Single key and multi-key
can set the key function buy yourself, area set and type set,number from 1-9,words from A-Z,a-z
Only
1204
left in stock - order soon.
Retekess T128 watch receiver with T117 call button with customize sticker

This watch concentrates the technology of wireless transportation, digital identify, dot matrix LCD display and microprocessor together to realize the functions of time display and wireless calling. It supports customize key content by yourself, so if the original key contact is not working for you. You can change it. So it is available for different areas, not only for restaurants and churches. The sticker on T117 call button can customize as well. You can contact us to check the detail.
Wireless watch receiver for service calling system
1.Retekess T128 can support 999 channels, so you can buy as 500 call buttons as you need.
2.LED display, showing time,battery, date, signal;
3.bulid in DC3.7V rechargeable Li-poly battery, long standby time;
4.long transmission distance can be 50m from the pager to watch receiver;
5.Receiving sensitivity value can be -108dBm,stable singnal;
6.2 work mode:Single key and multi-key;
7.can set the key function buy yourself, area set and type set,number from 1-9,words from A-Z,a-z
8. Prompt time adjustment from 0-15s
9. Removing calling record time setting from 0-99s
10. cycle time can be choose from 0-99s.
T117 Wireless call button
1.Four key function: Call; Cancel; Pay; Order; can meet varied needs; import use for restaurant; coffee shop nightclubs spas and salons club nursery church; good choice for waiting guests, caregivers elderly Strong anti interference;
2.the working chip adopts learning code; not garbled;
3.more stable signal Sturdy material, resistant to falling;
4.pager uses quality ABS engineering plastic material;
5.more durable Long working distance;
6.the maximum working distance up to 200 meters in the open area
Solutions:

Application :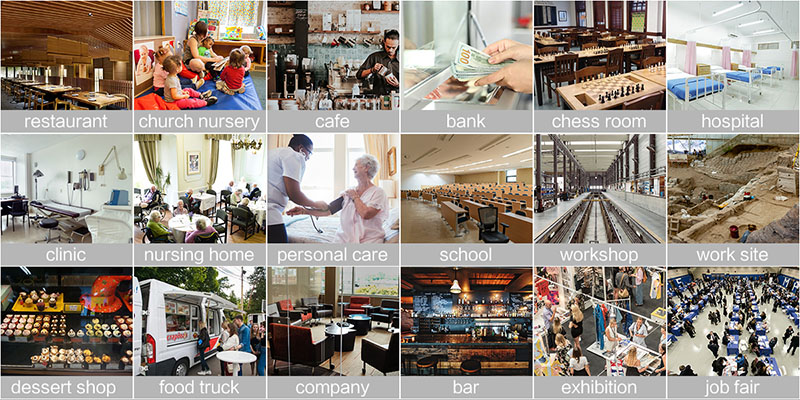 Please fill in your procurement needs and contact information
wireless service watch receiver
Working voltage: DC3.7V rechargeable Li-poly battery
Working frequency: 433.92MHz
Working current: 57mA±10mA (buzzer mode)
95mA±10mA (vibration mode)
Standby current: <8mA
Power-off current: 180±5μA
Receiving sensitivity: -108dBm
Decoding: learning code
Modulation: AM
call button specificatispecifications
Small, low current draw
RF frequency: 433MHz
Modulation mode: ASK (AM)
Working chip: learning code
Power: 2pcs 3V CR2016 battery (included)
Working current: 17mA
Emission distance: 200 meters (open area)
Working temperature: -20 Celsius to 55 Celsius
Size: 64 x 61 x 15mm / 2.5 x 2.4 x 0.6 in
Weight: 27g / 1oz
Has sticker, can be fixed on the table
Four key: Call, Cancel, Pay, Order
Package Includes:
1 USB Cable

1 x Watch Receiver

1 x User Manual

10x Call Button

Q: Can I set 3 T128 watches with pager?
A: Yes, you can pair one call button with more than 3 pagers as you want.
Q: How well does this work through windows and doors?
A: It can reach 200m/656 ft in the open area. So if with the windows and doors, it will influence, if you worry about the range later, you can choose the TD021 signal amplifier.
Q: Can I use 3 watch with 15 call in same time ? if someone push CALL, all 3 watch show calling ?
A: Yes, you just pair the call button with the 3 watches, so when you call, all the watches you pair with the call button will show calling.
Q: Can I Get separate watches?
A: Sure, you can check this T128, here is the link: https://www.retekess.com/T128-Wrist-Watch-Pager