Boombox AM FM Radio
CD/Cassette player with remote control
USB & TF Card Player
Boombox radio with 3.5mm headphone jack
Only
995
left in stock - order soon.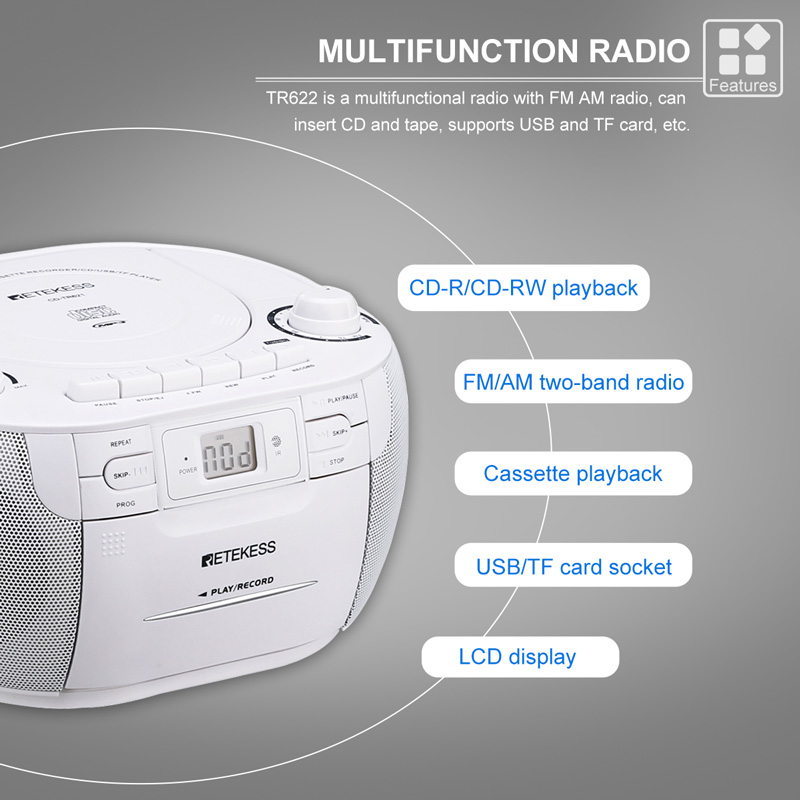 Portable Boombox Radio Key Features:
CD Player
Listen to how you want with the ability to playback CDs. Shuffle and program functions give you full control of how you listen to your tunes.
Cassette Tape Player
Built-in cassette tape deck with recording function, playback your tapes and record new ones with the built-in cassette deck.
AM/FM Radio
A direct tune AM/FM radio with telescopic FM antenna and built-in AM antenna make this music system perfect for people on the go
USB & TF Card Player
Maximum support 128GB USB flash driver and TF card with MP3/WMA audio format. A compact boombox with multiple functions makes it easy to play your favorite music.
3.5mm Stereo Headphone Jack
This AM FM boombox radio is equipped with an additional headphone jack to provide you more personal music experience. You can listen to music enjoying the great stereo sound without disturbing others.
Boombox with Remote Control
Convenient to control the Boombox Radio by remote control
Boombox with Convenient Carry Handle
Comfortable grip with moderate in size (10.2x8.6x5.5in), gives you the freedom to use it at home or where ever you go
Dual power supply
CD/Cassette player power with AC power(110V) or 6 x D size battery(not included)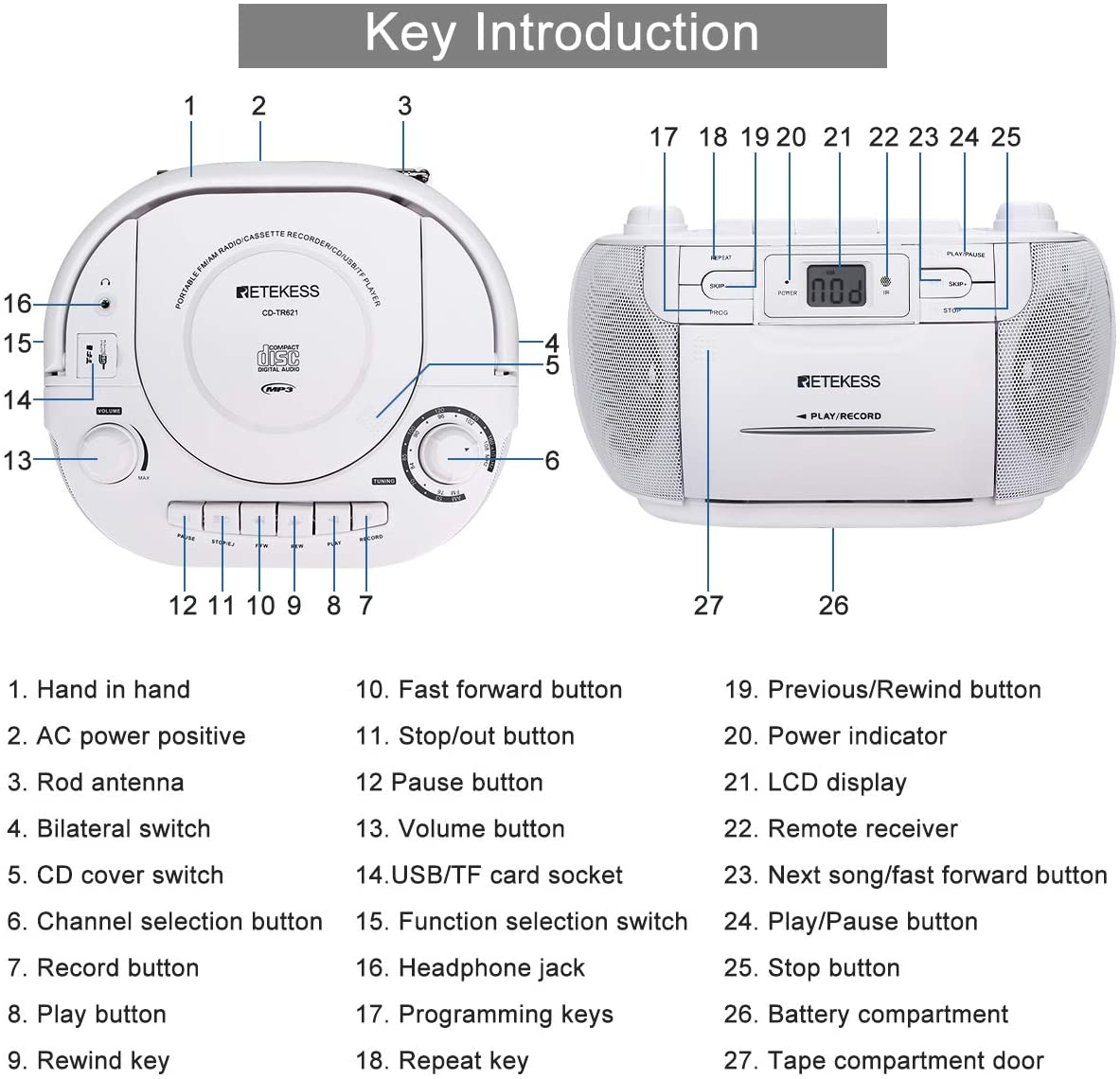 Please fill in your procurement needs and contact information
Portable Boombox Radio CD/Cassette Player Specification:
Power Source: AC 110 V; 6*A Batteries
Output Power: 2W+2W
Frequency Range: FM: 76~108MHz AM: 530~1600KHz
Tape Speed: 4.76CM/S士3%
CD playback frequency response: 50Hz-18KHz
Tape playback frequency response: 100Hz-8KHz
Maximum power consumption: 12W
The impedance of Speakers: 77MM, 6ohm
Item Dimensions: 260 (L) x 219 (W) x 139 (H) mm
Weight: body 2kg
Package Includes:
1*TR621 boombox radio (without Battery)
1* AC Power Cord
1* Remote Control (with button Battery)
1*User Manual
Q: Does the boombox radio play audio cassettes?
A: Yes it can play audio cassettes
Q: Does the CD/Cassette player have a headphone plug?
A: Yes, it is equipped with 3.5mm headphone jack
Q: Does the boombox AM/FM radio have a remote control?
A: Yes, it comes with the remote control