The interpretation system operates on 72-76 MHz
17 channels
Powered by 2 AA batteries
AUX support for stereo inputs
Only
30000
left in stock - order soon.
Our Portable interpretation system operates in the dedicated frequency range of 72-76MHz, providing seamless communication for simultaneous interpretation at conferences, meetings, or events.
One-touch mute transmitter
Interpreters can mute the microphone with a single click of the mute button, ensuring privacy during breaks or when interpreting needs to be temporarily suspended. This feature provides flexibility and control over the interpreting process, allowing interpreters to effectively manage their communications.
17 channels
The Language interpretation system offers 17 channels that can support up to 8 different groups of interpreters in the same location at the same time. Each group can work independently, targeting different language pairs or specific subject areas, increasing efficiency and minimizing disruption between different interpretation sessions.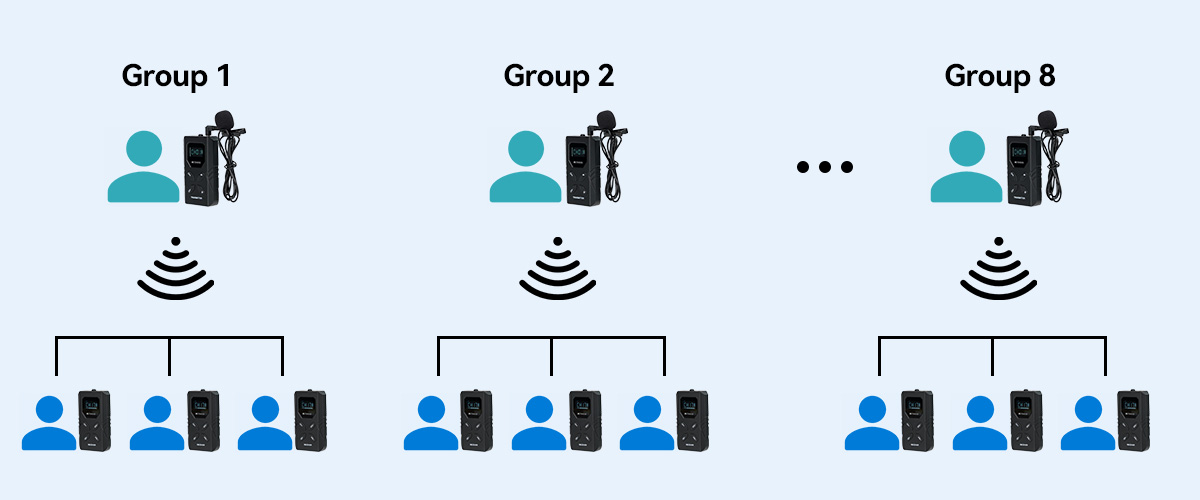 Communication range
The transmitter has a working range of 80 meters/262 feet, which ensures that even in large conference venues, the signal reaches the receiver (audience) without loss of quality or interruption. This extensive coverage allows interpreters to work from all parts of the venue, providing greater convenience and flexibility.
AA Battery Powered
Simultaneous interpretation systems are powered by 2 AA batteries, allowing the user to move them around and use them without the constraints of an external power source. The use of AA batteries also ensures ease of replacement and availability, allowing interpreters to quickly change batteries as needed during interpretation services.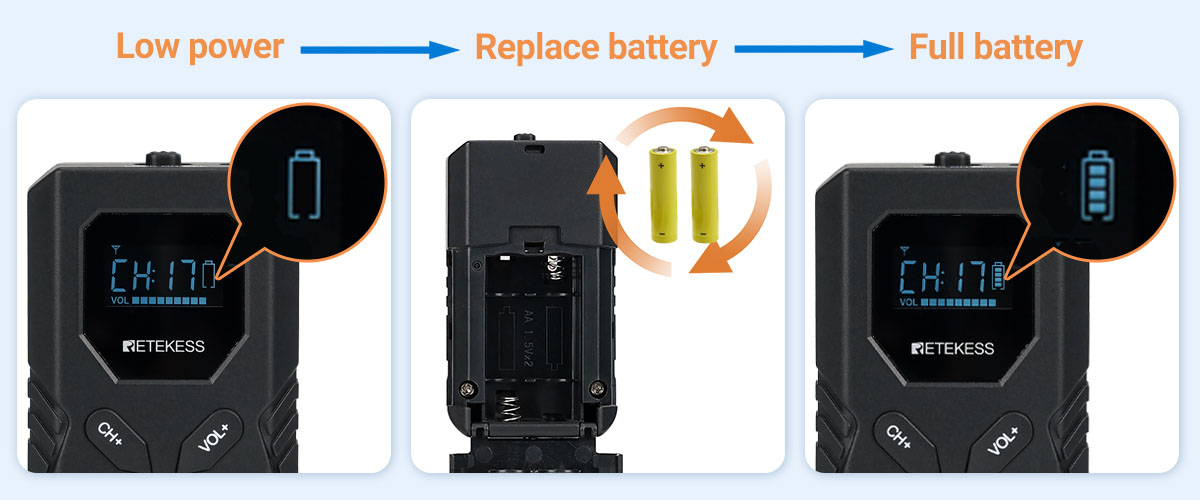 Lockout prevents accidental operation
By toggling the "Power switch" to the "LOCK" position, the interpretation equipment is locked, preventing accidental changes or adjustments to the settings during a simultaneous interpretation session. This ensures that the Language interpretation system remains stable and consistent throughout the event.
Flexible expanded interpretation device
The TT117 transmitter can be used simultaneously with an unlimited number of TT118 receiver units. This scalability allows you the freedom to add or subtract receivers to accommodate different group sizes, ensuring that all participants have access to the translated content.
Portable 50-slot carry case
Perfect for storing and transporting interpretation systems, this durable carrying case with 50 individual slots and accessory compartments holds up to 50 TT117 TT118 devices and accessories such as microphones and headsets. The sturdy case protects the interpreting headsets from accidental bumps or drops.
Other features of the wireless interpretation system
-- The listening volume of the TT118 receiver can be adjusted from level 0 to level 9 to meet audiences with different hearing abilities or preferences.
-- Both the transmitter and receiver are compact and lightweight at only 90 grams, making them very portable and easy to transport.
-- TT117 transmitter with a 3.5mm AUX port and MIC port not only supports MIC input but can also connect to external audio devices for playback.
-- The LCD backlit display is easy to read and shows information such as the current channel, battery level, and volume setting.
Please fill in your procurement needs and contact information
Specification of TT117 TT118 Interpretation Headsets
| | | |
| --- | --- | --- |
| | TT117 Transmitter | TT118 Receiver |
| Frequency range | 72-76MHz | 72-76MHz |
| Channel | 17 channels | 17 channels |
| Power supply | 2 AA batteries | 2 AA batteries |
| Working hours | 8 hours | 10 hours |
| working voltage | 3V | 3V |
| Working range | 80 meters | 80 meters |
| Size | 53*93.5*20mm | 53*93.5*20mm |
| Weight | 90g | 90g |
Specification of TT017 50 Slot Carry Case
| | |
| --- | --- |
| Material | Nylon cloth wrapped with EVA |
| Size | 370*340*110mm/14.56*13.38*4.33 inch |
| Weight | 1890g |
Package List
Package
Package Include

3TX-20RX-1 BAG

3x transmitter

20x receiver

3x lavalier microphone

20x single-ear headphones

23x lanyard

1x 50-slot carry case

1x user manual

3TX-30RX-1 BAG

3x transmitter

30x receiver

3x lavalier microphone

30x single-ear headphones

33x lanyard

1x 50-slot carry case

1x user manual

4TX-46RX-1 BAG

4x transmitter

46x receiver

4x lavalier microphone

46x single-ear headphones

50x lanyard

1x 50-slot carry case

1x user manual
Q: How does the Retekess interpretation equipment work?
A: The picture below can help you understand how it works.
Q: I would like to equip my receiver with a headset binaural headphones, is there a compatible option?
A: Of course, we offer a compatible TT003 headset that is durable and comfortable.
Q: Can Retekess Simultaneous Interpreting devices support multiple languages at the same time?
A: Yes, Retekess interpreting devices are capable of supporting multiple languages at the same time. Simply assign a different channel to each language.
Q: Do you offer technical support or assistance after purchase?
A: Absolutely! Our dedicated technical support team is available to help you with any queries or problems you may have with your Retekess interpreting device. Please feel free to email support@retekess.com and we'll be happy to help!