Long working range; the max range of the buttons to receiver can be 200m at open area in theory; Max support 500 wireless call button; Rechargeable 400mAh battery for the watch receiver; Watch Receiver use dot matrix LCD screen to maintain the image clarity
Only
2402
left in stock - order soon.

LCD Display; Watch Receiver use dot matrix LCD screen to maintain the image clarity; vibration or buzzer adjustable prompt modes; you can change it from vibration setting to bell
Support multiple buttons are pressed at a time; Screen show setting to select live view or queue view mode; So it can tell which pager is requesting attention
Long Range; the max range of the buttons to receiver can be 200m at open area in theory; with fast delete function, can delete single or all calling information by one button
Rechargeable 400mAh battery for the watch receiver; USB charger port, no need to replace the battery, safe charging circuit; once for full charge it can last long hours; easy to charge; so it can work well for restaurant coffee shop;no need to worry about battery life
Small size; paging system adopts wrist watch design, easy wear; light weight only 44g for the receiver, very convenient for caregiver to use; high receiving sensitivity

Product Details

Prompt mode
There are 2 working modes: vibration or buzzer.
So wireless pager system can work well for different conditions.In coffee shop, you can set vibration for customer needs; at restaurant, you can set buzzer function to find the right signaling quickly.
LCD Display
Wireless paging system can be more clear with dot matrix LCD display technology, easy to read; much lighter; easy to carry.
Built in Battery
DC3.7V rechargeable Li-poly battery for the watch receiver.
2pcs 3V CR2016 battery for each pager.
Easy to charge; no need to replace the battery when they run out.
The product uses removable rechargeable battery with long standby time and safe charging circuit.
More Advantages
Wireless Technology
Restaurant paging system use RF tech with small size design.
Long Range; the maximum distance between the call button and receiver can be 200m at open area; and it may be short by practical conditions, such as brick walls or cement floor factors.
Time and Date Adjustment
Through the button, you will see the current time; it shows detailed hours; minutes; seconds; year and month.
and they are all can be adjustable; it can let your choose from hours to minutes to seconds and to day to month to year.
Advanced Chip
Wireless calling system adopts advanced chip to maintain signal stability; 108dbm receiving sensitivity; less signal interference; also it can support maximum 99 channel receivers, helpful for your business range.
Solutions: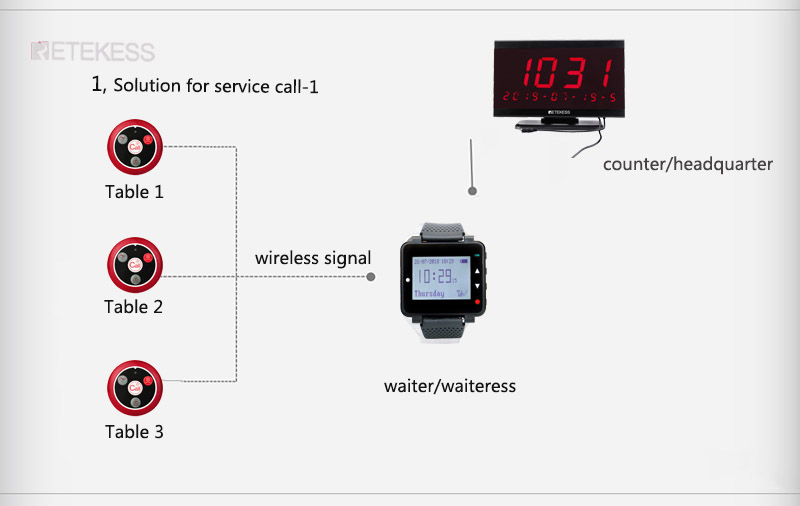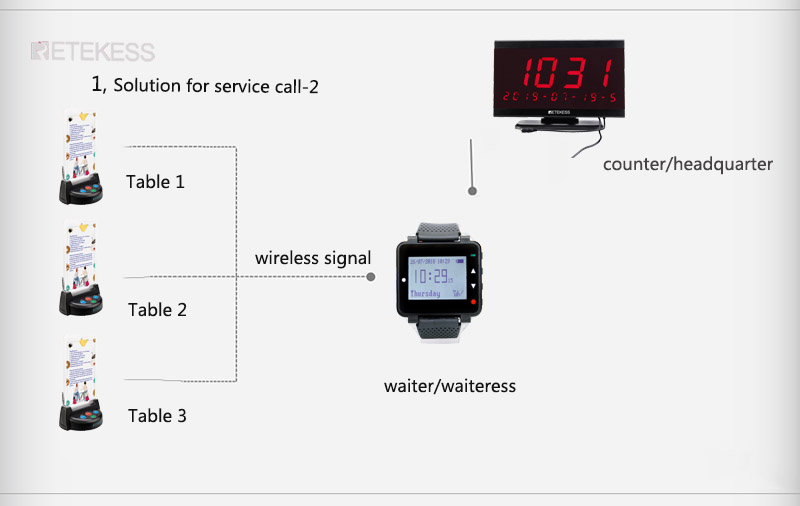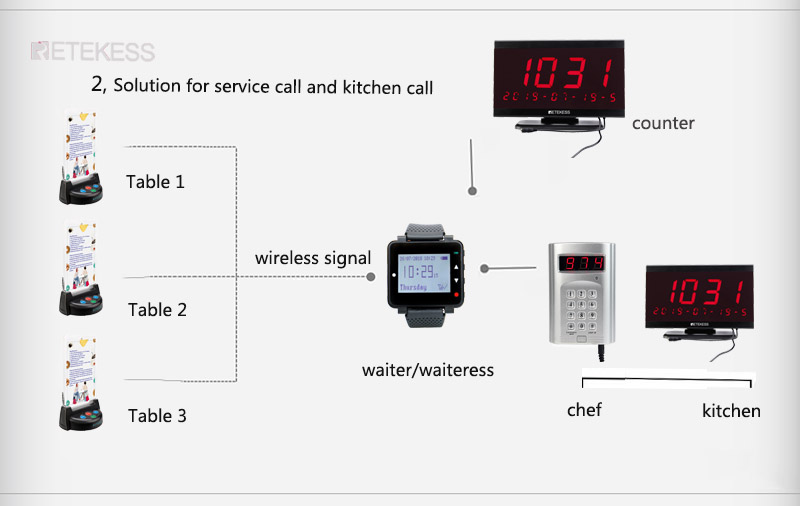 Applications: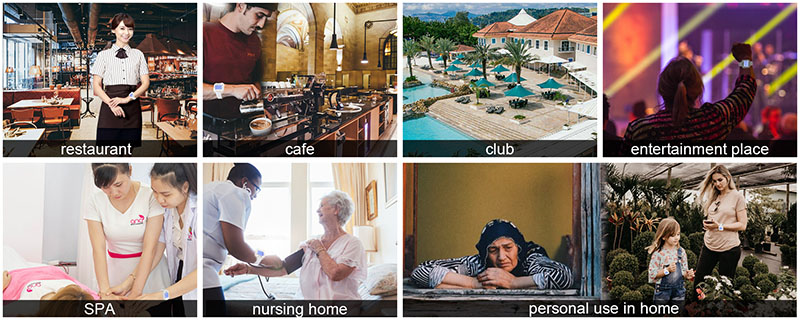 Production process: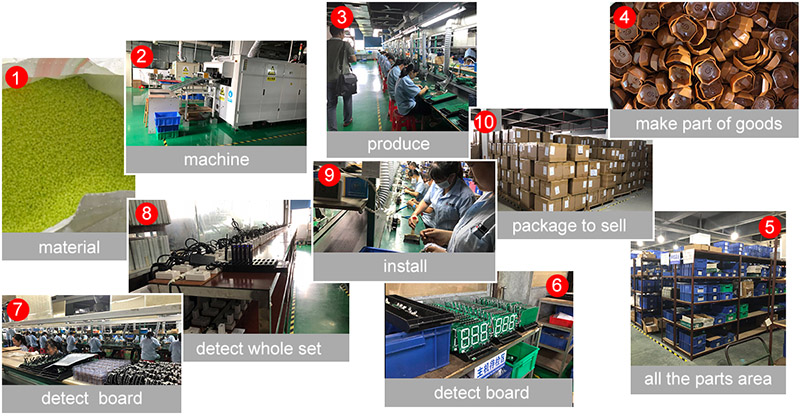 Please fill in your procurement needs and contact information
Restaurant paging system is easy to set up; compact; adopt fashion wrist watch style;support multiple receivers at the same time

Suitable for restaurant; bar;cafes;office; hospitals;hotels;factories

Support call buttons simultaneously
Wireless pager system adopt advanced chip to support coaster pager call at one time; and you can choose live view or queue view types;live view function means that newest call number shows on the top;queue view stands for oldest call number show on the top of screen; for example when Number 1 Number 2 Number 3 call in turn; live view screen is show 0003 0002 0001;queue view will show 0001 0002 0003

Long Range
It can be 200m transmission distance from the call button to receiver at open area; and it may varies for practical use; a good choice for restaurant use

Long Battery Life
There is built in 400mAH battery for long working hours; easy to charge; so you do not need to change the battery every week

Time and Date Setting
You could see current time like hours; minutes; seconds;month and year;and it allows to adjust from hours to minutes to seconds and to day to month to year;Accurate time display

Humanized Design
Restaurant calling system adopts special wrist watch design; light weight;Easy to set up; Also there is low-power indication for the battery; easy to charge; And you can add caller or delete caller more easily

Specification:
Operating Voltage:DC3.7V
Battery capacity: 400mAh
Receiving sensitivity: -108dbm
Display method: LCD
Prompt mode:vibration or buzzer
Adapter: 5V 1A
Watch net weight:44g

Package List:
Watch receiver:1pcs
Power adapter:1pcs
USB cable:1pcs
English User manual: 1pcs
Warranty card: 1pcs

Q: How many pieces call button can work with one watch receiver?
A: It max supports 500 pieces.
Q: Does the watch receiver support rename the call button?
A: Yes, you can name the key of the call button, and the max character is 12.
Q: Does the watch receiver work with 4-key call buttons?
A: Yes, you can set the work mode to multi-key mode.
Q: Can i pair the 3-keys call buttons with 3 watch receivers?
A: Yes, pls choose the type to single-key.