Retekess T130S T131S Simultaneous Translation Equipment for Church Translation Court Interpreter
SKU:
F9632AX1-F9632BX15-F9481AX15
This simultaneous translation equipment includes 1 transmitter, 15 receivers, and 15 headphones
Crystal clear sound without noise
Communication range up to 100 m/328 ft
The transmitter and receiver can run continuously for 20 hours
49 channels allow setting up 49 different language translation groups
The headset is comfortable and durable
Easy to use and set up
OverView

3.5 mm headset for the translation system
The wireless receiver comes with a single-sided headset, but this headset provides a more enjoyable listening experience for the listener. Its headband length can be adjusted, so everyone can adjust it to their head size, ensuring a firm fit while also ensuring comfort. The sponge on the earpiece is both soft and insulated from external noise.
Transmitter supports a one-key mute
Interpreters need this feature badly, the mute button allows them to temporarily mute the microphone when coughing or sneezing, which avoids a bad experience for the listener.
Easy to use
One-button automatic channel synchronization: The T130S T131 portable interpreter device can synchronize the channels of all devices in 8 seconds, so you don't need to spend a lot of time adjusting the channels one by one. In addition, they have the function of channel memory, with no need to re-pair when used again after successful pairing.
One key to turn off all receivers: The guide only needs to long press the transmitter "-" button for about 5 seconds, and all receivers on the same channel as the transmitter will be turned off, saving time.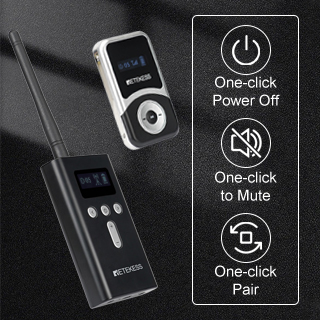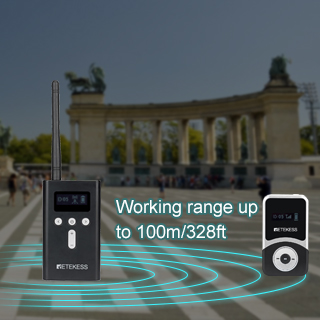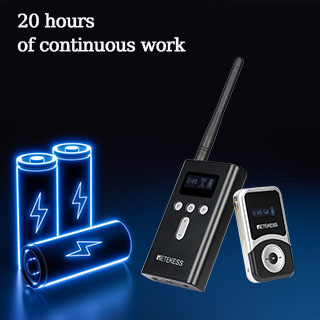 Long-range simultaneous translation equipment
Wireless transmitters can communicate with receivers up to 100 m/328 ft. This means that interpreters can do their work away from the audience so that the audience is not distracted by the interpreter's voice and the church congregation and court participants are more focused on the content of the message.
Long-running time
The battery capacity of the upgraded T130 interpretation device is much improved compared to the older version of the T130 interpretation system. The transmitter and receiver can stay on standby for up to 20 hours, so you don't need to charge them as often or worry about running out of power in the middle of use.
Adjustable volume
The light receiver has a volume up/down button, so listeners can adjust the volume to suit their hearing condition. Don't worry if you have elderly or hard-of-hearing people in your group, the 10-level volume range makes it easy for everyone to listen.
Expanded simultaneous interpretation systems
If your team grows in size, you can increase the number of receivers as needed. There is no limit to the number of receivers that can be added, as transmitters can be paired and used together with countless receivers. If the number of languages to be translated increases by 1, then 1 additional transmitter is required. This church translation device has 49 channels and can create groups of up to 49 different languages in the same area.
MIC input and AUX input
T130S transmitter with MIC jack and AUX jack, in addition, to supporting connecting mic speech, also support connecting external audio devices such as computer, cell phone, mp3, etc. You can play music or other voice files for church congregation through this function.
User-friendly design
T130S T131S simultaneous translation equipment is plug-and-play, no need to install it in advance. The wireless transmitter can be worn in two ways: around the neck with the included lanyard or on the belt with the back clip, and the receiver can be hung around the neck with the lanyard or placed in the pocket. Hands-free design to free your hands, but also not easy to drop the device.
Spec
Transmitter

Receiver

Frequency Range

195-216MHz

Frequency Range

195-216MHz

Channels
49CH
Channels
49CH
Working Voltage
DC 3.7V
Working Voltage
DC 3.7V
Mic /Aux input
3.5mm

Earphone Jack

3.5mm
Frequency Response

50-18000Hz

Frequency Response
50-18000Hz
SNR
80dB(Typical)
SNR
80dB(Typical)
RF spurious rejection
≥90dB
RF spurious rejection
≥90dB

T.H.D

<0.3%

T.H.D

<0.3%
Operating Range
100m(line of sight)
Operating Range
100m(line of sight)
Battery Capacity
4200mAh
Battery Capacity

900mAh

Battery Run Time
About 20 hours typical
Battery Run Time
About 20 hours typical
Weight
120g(without accessories)
Weight
30g(without accessories)
Size
103*61*25.8mm(without antenna)
Size
73*42*12mm
Package Includes:
1 x transmitter

1x lavalier mic
15 x receiver
15 x earpiece
16 x lanyard
16 x charging cable
15 x headphone
FAQ
Q: What is the warranty policy for these devices?
This T130S T131S simultaneous interpretation equipment has a 30-day no-questions-asked return and a 2-year warranty.
Q: Will I hear static or noise from the headphones?
No, the listener will not be disturbed by noise within a communication range of 100 meters. If you still hear noise when the listener is within the working range of the transmitter, it may be that there is a large signal interference in the environment, or the channel you are using is occupied, then you can try to change the use environment or change the channel ID.
Inquiry
Please fill in your procurement needs and contact information
We found other products you might like!