Low power FM transmitter complies with part 15 of FCC rule, 3.5mm jack for Microphone and audio cable, BNC Type antenna output, LCD digital display, jack for DC 11-13V
Only
9978
left in stock - order soon.
Retekess New Arrival FM Transmitter Low Power Broadcast Radio Station
As we all know, COVID-19 is more serious in the whole world. The governments advise us to stay at home to keep safe.
So we have the new way to do the church services now-Drive-in church using the FM broadcast transmitter in the parking lot.
Many FM transmitters in the market are out of stock, but Retekess makes the new one meet the marking needs.
Pls check the details of TR508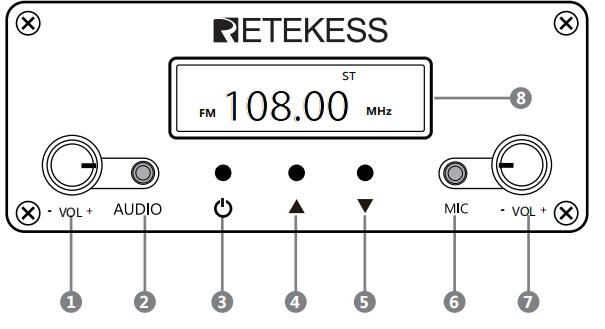 1. Audio volume
2. MIC volume
3. 3.5mm Jack for Audio Cable input
4. 3.5mm Jack for electret microphone (And the computer use the same microphone) input
5. Power Button (On / Off)
6. "+" Frequency Up Button (To increase the radio frequency)
7. "-" Frequency Down Button (To decrease the radio frequency)
8. LCD Digital Display for the Radio Frequency,
9. Jack for DC 11-13V
The feature of TR508 FM Transmitter:
1. low power complies with part 15 of FCC rule
2. MIC volume
3. Stereo voice, clear sound
4. Stable signal, little affected by the outside
5. Lightweight and excellent heat dissipation
6. The motherboard adopts a new generation of integrated special-purpose NC FM PLL stereo wireless transmission chip BH1415 from Japan ROHM company, and has a built-in PLL frequency phase-locked loop, audio pre-emphasis, limiting and low-pass filter circuit, which can achieve high fidelity and high stable signal transmission
If you want to know more, pls email us at support@retekess.com
Please fill in your procurement needs and contact information
TR508 FM Transmitter Specification
Working: voltage11~13V DC (Rated voltage 12 v)
Working current<300mA
Frequency stability:±10PPM
Frequency Step:100KHZ
The operating temperature of the environment -10℃~50℃
output impedance: 50Ω
Harmonic and noise radiation: ≤-60dB
Audio distortion: <0.30%
Frequency response: 20HZ~15000HZ
Preemphasis delay: 50us
degree of separation:≥40 dB
input level:≤-10 dBV
Modulation frequency deviation: ±75KHZ
SNR(Signal to Noise Ratio)≥65 dB
Machine Size:113mm;W:88mm;H:39mm
Machine weight: 269g
Package Contents
1xTR508 FM Transmitter
1x100~240VPower Supply
1x 3.5mm Audio Cable
Q: Can i use the FM Transmitter for the drive-in church in the parking lot?
A: Sure, we made the item for drive-in Scenes, people can set the frequency of the car the same as it, then receive the message from the transmitter.
Q: Does the FM transmitter have the FCC ID
A: Yes, it does.