Four key function: Call, Cancel, Pay, Order, can meet varied needs, widely use for restaurants, coffee shops, nightclubs, spas, salons clubs, and nursery churches. It has the stable signal, sturdy material, resistant to falling. The pager uses quality ABS engineering plastic material, more durable.Long working distance, the maximum working distance up to 150 meters in the open area and support customize.
Only
1000
left in stock - order soon.
Retekess T117 Watch Pager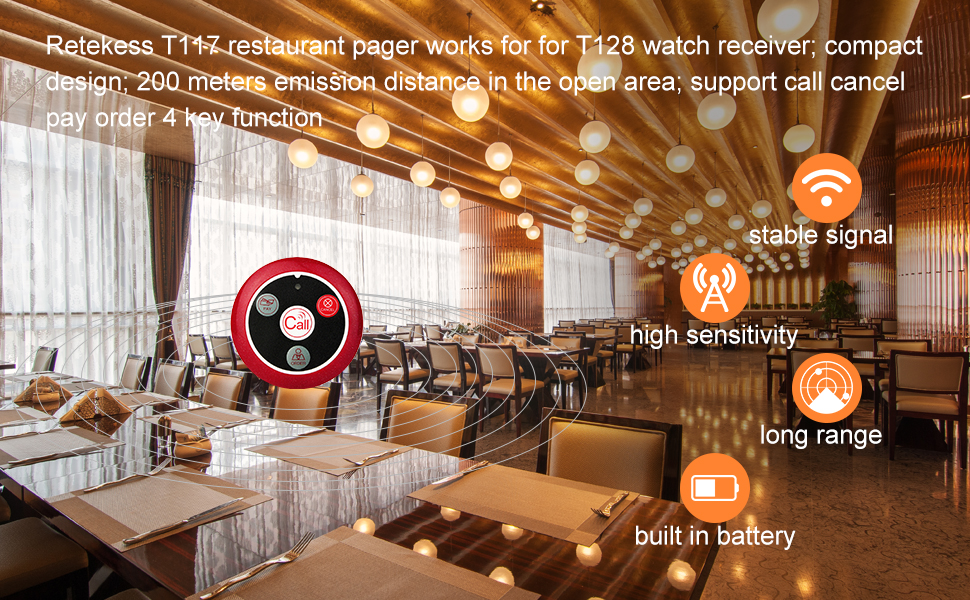 Call Button Restaurant Pager
Retekess T117 guest pager adopts compact body design; small size; it can be a good choice for restaurant use; you can paste the round pager on the desk with dual side sticker; convenient for customer use; no need to worry about pager lost problem.
Main Features:
Four key function: Call, Cancel, Pay, Order
Small Size, low current draw
Higher RF frequency
Modulation mode: ASK (AM)
Working chip: learning code
Power: 2pcs 3V CR2016 battery (included)
Long Emission distance
Light Weight
Product Advantages

4 Key Function
Call, Cancel, Pay, Order Function Key
Very easy for guest use, especially for restaurant use; you can get to know your customer detailed wants; watch pager can improve the working efficiency effectively
Light Weight
27g or 1oz net weight for the pager;
Round Style design;Easy to hand hold;
Guest pager will not take up so much space
ABS Material
Watch pager adopts quality ABS material; more sturdy; it has better anti oil ability in restaurant or food truck use

Sticker Design
It comes with dual adhesive sticker in the package
So you can paste the coaster pager fixed on the food table; there is no need to worry about pager lost issues
Battery Replacement
Watch pager is built in 2pcs 3V CR2016 battery
17mA Working current means low current draw for long use
You can also replace the battery when they run out; humanized design
Stable Signal
Calling pagers use higher working frequency with learning code
Compared with fixed code type, the signal interference can be well controlled with better signal stability.

Please fill in your procurement needs and contact information
Wireless calling system pager works for T128 watch receiver; round type; with four keys function; easy to use

More functions
Four features for call; cancel;pay; order; very important use for restaurant, cafes customer use; and it can improve the working efficiency effectively

Signal stability
The calling button pager use ASK modulation mode; with learning code chipset; less signal interference

Small Size
64 x 61 x 15mm; 27g net weight; very convenient for customer use

Quality Material
It use ABS engineering plastic material; so it has better ability to resist burst for durable use

Easy to use
It comes with double side sticker; so it can be pasted fixed on the table; no need to worry about pager lost

Package Includes:
1 x Call Button
1 x Sticker