Being a good tour guide requires several skills and qualities, including:
1. Excellent Communication Skills: A tour guide must possess good communication skills to explain things to visitors in a clear and concise way. They should be able to communicate effectively in both verbal and written forms. Tour guides should be able to communicate effectively and clearly, and use language that is simple and easy to understand for all visitors.
2. Knowledge of the Destination: It is important to do thorough research on the destination you will be guiding people to. Gather all the information possible, including history, geography, culture, language, attractions, hidden gems, and any unique features. A good tour guide must have extensive knowledge of the destination. The guide also should also be familiar with the local language and customs.
3. Clear communication: Tour guides need to tell tourists about the culture, history, and relevant anecdotes of the destination, but in noisy outdoor streets or museums or cultural attractions that need to be quiet, guides have to shout loudly to gather tourists or have to whisper, Tourists also have to surround the tour guide to listen to the explanation and the space for activities is limited. A set of tour guide systems can solve the listening problem during the tour at a lower cost, click to learn more about the guide system.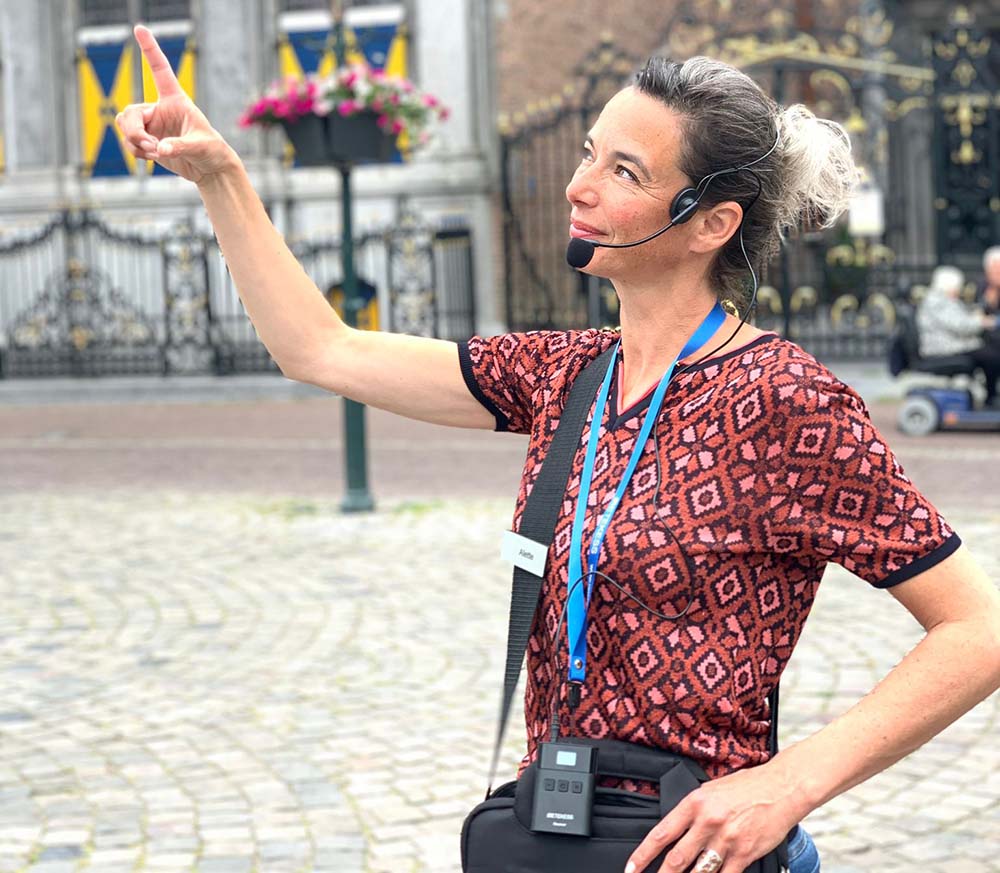 4. Be creative: Use your creativity to make the tour more engaging.
Use storytelling techniques: Share interesting stories related to the landmarks or places being visited. Personal anecdotes or historical accounts can make the tour more memorable and captivating for the audience.
Interact with the audience: Ask questions or provide opportunities for the audience to share their experiences or opinions. This creates a sense of participation and involvement, making the tour more interactive.
Use multimedia tools: Use photos, video clips, or audio recordings to enhance the tour experience. These tools can provide additional information and visuals that can help the audience to understand and appreciate the place being visited.
Keep it light and fun: Inject humor and lightheartedness into the tour. It can help break the monotony and make the tour more enjoyable.
Provide surprises: Offer unexpected twists or surprises along the way to create excitement and interest. It can be something as simple as a hidden gem or a quick detour to an unusual spot.
5. Interpersonal Skills: To keep the tour interactive, engage with your guests, and create a comfortable atmosphere. A tour guide must be friendly, approachable, and patient. They should be able to connect with visitors and put them at ease and offer assistance to your guests whenever they need it.
6. Safety Consciousness: As a good tour guide, you need to ensure the safety of your guests. Provide safety instructions, alert them to any potential dangers, and keep them informed and updated throughout the tour. Good tour guides must prioritize the safety and well-being of their guests. They should have the ability to manage risks and emergency situations calmly and effectively.
7. Flexibility: Tour guides should be able to adapt to changes in itineraries, weather, and other unexpected situations. They should be able to think on their feet and find creative solutions to problems. In addition, Tourists might have different preferences and interests, so it's always good to keep a flexible schedule. Be prepared to make changes to your itinerary based on your guests' preferences.
8. Plan Ahead: As a good tour guide, planning and organization are critical. Arrive on time, have an itinerary for the day, and ensure that transportation, meals, and tickets are all arranged and accounted for. Having a well-planned itinerary will ensure a memorable experience for your guests. Make sure to have a good balance of sightseeing, relaxation, and entertainment activities.
9. Be enthusiastic: A good tour guide is passionate about what they do, and this enthusiasm is infectious. You can encourage your guests to enjoy the tour by showcasing your enthusiasm. A positive attitude will go a long way in enhancing the experience of your guests. Keep a smile on your face, be enthusiastic, and make your guests feel welcome.
By following these tips, you can be well on your way to becoming an excellent tour guide.