If you're planning to go on a trip to a new city or country, you're most likely looking for ways to have the best sightseeing experience possible. An audio guide system can be the answer to your problems. This device lets you talk to your tourist's commentary clearly without any background noise distractions. Here are some of the benefits you'll enjoy by using a tour guide system:
No more missing important information:
Even if your customer is at the back of the group or there's noise around you, your tourists can still hear your comments with a tour guide system. This way, tourists won't miss out on any essential information or interesting facts and can fully appreciate the sights they're seeing.
Learn more about the places you visit:
Tour guides are experts in the history and culture of the places you show them. By using a tour guide system, your customer will gain more knowledge about the places you're visiting, and understand their significance better.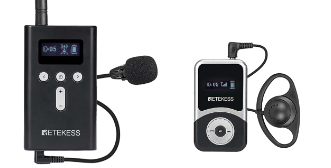 Convenient and flexible:
With a tour guide system, your customer can explore at their own pace. They don't have to hurry or keep up with the group to hear what you are saying. They can pause and resume the commentary whenever they want, giving them more flexibility in their sightseeing schedule.
Engaging and interactive:
Tour guide systems are designed to be engaging and interactive. They provide features such as quizzes and games that make learning fun and more memorable.
For all ages and abilities:
Tour guide systems are suitable for all ages and abilities. Tourists can enjoy their sightseeing experience whether they're traveling with children or are senior citizens, and having a tour guide system can make it more enjoyable and accessible.
To conclude, using an audio guide system can significantly enhance their sightseeing experience. It allows tourists to learn more about the places they're visiting, provides flexibility in their schedule, and is suitable for all ages and abilities. So why not make the most of your next trip with a tour guide system?