Many restaurants currently face the following challenges
1.Low efficiency: When you have a very large restaurant, the kitchen is ready for orders and the waiters are worried about not finding customers.
2.High labour costs: Labour costs are still a challenge for the restaurant industry due to the increase in the minimum wage. Based on this situation, you need to consider: how many people you employ to handle takeaways, cook, serve, manage waiting lists, etc.? And, how much do you pay restaurant staff to do a good job? In addition, many restaurants are experiencing difficulties in finding and retaining staff.
3.Changes in eating styles: Since online ordering and takeaways have become popular, more and more customers are not eating in restaurants, so restaurants have had to adapt their operations to suit this change. Many restaurants have designated areas such as car parks, takeaway entrances or pick-up windows where customers can pick up their food without entering the dining area. But how can you quickly inform a customer when their order is ready?
The restaurant buzzer from Retekess can help you solve these problems
In your restaurant use a set of restaurant buzzer, the wait staff manage the transmitter and give a pager to each customer who has placed an order. When the kitchen has prepared the order, the waiter enters the number of the correlating customer on the transmitter. Then the pager receives the signal and sends out alerts such as beeps, flashes and vibrations to remind the customer. The customer will know that their order is ready and collect it in time. This saves the server time in finding the customer, increases efficiency, reduces unnecessary labour expenses and allows the customer's order to be dealt with in a regulated manner, even during busy hours.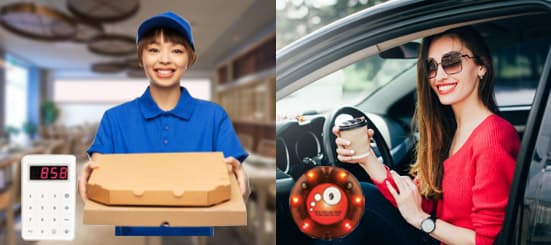 In a busy restaurant, server pagers help with efficient use of time, fast communication and overall smooth operation of the restaurant - a formula for increased guest satisfaction, quick table turnaround and increased profits.
We support customized orders, and you are also welcome to comment or email us with your product requirements at support@retekess.com and we will recommend the most suitable model for your restaurant.