Retekess TD154 Wireless Waiter Call System with TD029 keypad and TD112 Watch Pager
IPX7 level waterproof
Fast charging, fully charged in 3 hours
Customizable keys' names, meet your needs
OLED display, clear and low power consumption
One watch pager can be used with up to 50 keypads
7 languages: English, Chinese, Italian, Spanish, Deutsch, French, and Portuguese
Note: Please use the transmitter keypad on the table which be made of wood, plastic, glass and other materials, and avoid the table top of metal and marble.
2645 people are looking for this product
OverView
The watch pager is used in combination with the transmitter keyboard. The watch pager sets the ID number of the corresponding employee. When the employee needs to be called, enter the employee ID number on the transmitter keyboard to call the corresponding employee. This kind of communication is timely and fast, which increases efficiency. The wireless waiter call system is used in scenarios such as kitchen call service and employee calls.
TD154 Wireless Waiter Call System for Communication between Kitchen and Staff:
The kitchen staff can call the ID number of the responsible waiter after the customer's food is ready. After receiving the information, the waiter immediately goes to the kitchen to get the meal and deliver it to the customer. The information can be received immediately, which improves the communication efficiency between the kitchen and the waiter, does no need to shout, and provides a good restaurant environment for customers.

Advantages of TD154 Wireless Waiter Call System:
2 groups of alarm settings are still valid when the power is off, you can use them to set alarms to remind you to do certain things.
Customizable key-value can be set as required.
IPX7 waterproof can be immersed in water for a short time for daily wear, and rain, and wash hands without taking off the bracelet. You can customize the health value of the pager
Using a special charging clip to charge it, it can be fully charged in 3 hours, and it can stand by for 48 hours after being fully charged.
Support one-to-many or many-to-one, launch keyboard supports one-key call and number combination.
Can be used in conjunction with software: add, modify, delete employee, keyboard, area information, set pager keys, and keyboard names, and edit bracelet information. This application requires a separately purchased USB transmitter (F9624E).
7 languages, English, Chinese, Italian, Spanish, Deutsch, French, and Portuguese, you can choose according to your needs.

Benefits of TD154 Wireless Waiter Call System:
Solve the communication problem between the kitchen and the waiter.
It can realize humanized service and management, improve service quality and simplify the work process.
Create a quiet and comfortable consumption environment for customers.
Improve the work efficiency and service quality of service personnel, reduce the number of service personnel, and save enterprise costs.
Optimize the customer dining experience, by improving the customer consumption experience, reducing the operating cost of the enterprise, enhancing the corporate image, and ultimately improving the competitiveness and attractiveness of the enterprise.
Optimize operations by improving employee communication, serving guests, and delivering a great experience. Your business thrives when your team is connected.
TD154 Wireless Waiter Call System Usage Scenario:
TD154 wireless waiter & staff call system can be widely used in restaurant kitchens, hospitals, banks, hotels, high-class restaurants, food cities, beauty salons, warehouses, etc.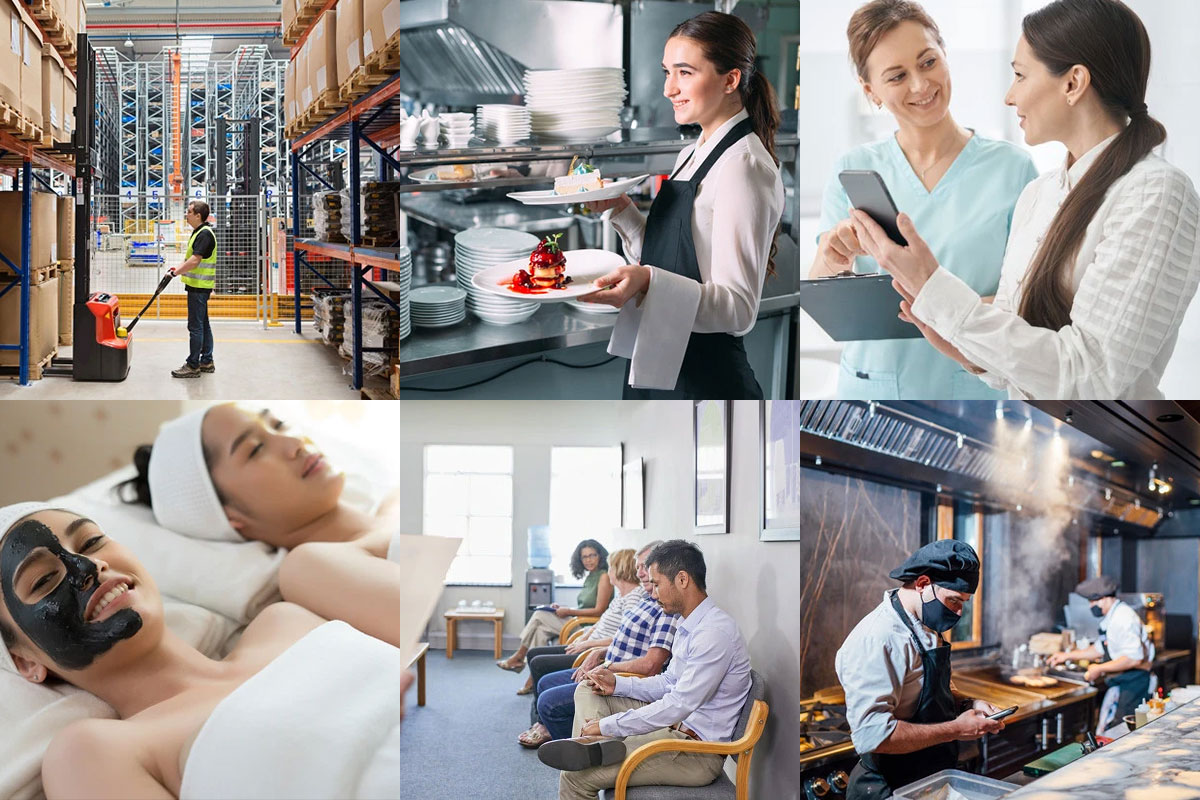 Spec
TD154 Wireless Waiter Call System Watch Pager

Communication frequency

315/433MHz

Reception sensitivity

-114dBm

Battery Capacity

180mAh

Prompt Length

1-15S

Number of Stored Messages

10

Standby Time

48h

Charging

USB

Display Screen

OLED

Shell material

Polyurethane+PC

Size

48*25*15
TD154 Wireless Waiter Call System Transmitting keypad

Transmitting frequency

AM 433MHz

Modulation method

OOK

Adapter

DC 12V/1A

Standby power consumption

2.4W

Rated power

2.88W

Shell material

ABS+PC

Size

162*98*40
F9624C Package Includes:
Watch pager X 5
Data cable (charging clip) X 5
Transmitting keypad X1
Instruction manual X1
Adapter X 1
FAQ
Q: How many keypads can a watch pager work with at the same time?
A: One watch pager can work with up to 50 keypads at the same time
Q: Where can I see the operation video and introduction of the TD154 Staff Paging System?
A: You can see a video of how this works and it's set up on our official YouTube account.
Q: Does it connect with Bluetooth or Wi-Fi?
A: No need. Our product is a wireless paging system that does not require Bluetooth or wifi to work.
Q: Besides TD029, what other products can the watch pager be used with?
A: It can work with F9477A, F9617A, F9405C, F9408A, F9464A, F9459A.
Q: What is the charging time of the watch pager?
A: Our door is equipped with a fast special charging clip, full in just 3 hours.
Inquiry
Please fill in your procurement needs and contact information
Product Reviews
Charlotte

Good wristwatch, convenient to call with PC software

Life waterproof, oil-proof.Daily cleaning is more convenient.

Jack Browning

Great Waterproof

The combination of the watches and keyboard is great! They are all water resistant, making them great for places with a lot of oil, like restaurants. I also use software to call watch pagers

Jared

Easy to operate but watch has no beep

The functions of the watch are perfect, convenient and practical. But he doesn't beep to alert, causing my staff to sometimes miss calls

Kristiaan

Call watch by keypad and software

Amazing call system, I can connect it to my pc and also call watches by keypad and software

Best for the kitchen to call waiters, my restaurant is much more efficient!!
We found other products you might like!