Retekess T133 Call button, one key. Coffee color and special design, ideal for restaurant, hotels,bars,hospital and SPAs. The advantages of using the wireless call button are faster service, increased table rotation, greater customer satisfaction and increased overall revenue
Only
2000
left in stock - order soon.

The advantages of using the wireless call button are faster service, increased table rotation, greater customer satisfaction and increased overall revenue.
Easy to use for the customers: one-key on the button, no tutorial required
Small size: 60 x 60 x 30mm, save space and easy to clean
Waterproof: no worry about sprinkling drinks or vegetable juice
Easy to install: each button comes with a double-sided adhesive, it can be fixed on the table very easily, built in 12V/23A battery, work out of box after pairing it with the receiver paging system
Long range: the range up to 150m with stable signal in an open area, making the customer's needs heard all the time

ABS material
The Call Button with ABS material,which is easy to clean,so you not need to worry about that the customers from accidentally falling
Imported chip
The important thing of wireless transmitting equipment is stability. the imported chip thus increasing the service life of the transmitting equipment and
This call button with learning code working chip,

to pair the button to the receiver
Fixed on the table
With a base and double-sided adhesive, it can be fixed on the table,The base rubber pad is 3M foam double-sided tape. It is made of reinforced acrylic foam base material. The colloidal structure is firm and sticky. It can be easily fixed on the wall and other objects
Long working time

Working temperature
The transmitting frequency will not be affected by the temperature and humidity changes, the working temperature is -14°F to 140°F, which will cause the offset serial number phenomenon
Waterproof
When a guest wants his or her server, he/she presses the button of a service bell, which sends a signal to the central receiver,this call button can only prevent water from getting wet
Stable emission distance
Saw Device aeronautical communication special parts ensure signal transmission stability, built-in channel anti-mixing function, integrated with built-in timing route design, with strong stability registration, no garbled phenomenon, thus enhancing signal penetration

Solution for service calling system :

This call button can work with wrist watch receiver or host receiver, or both together.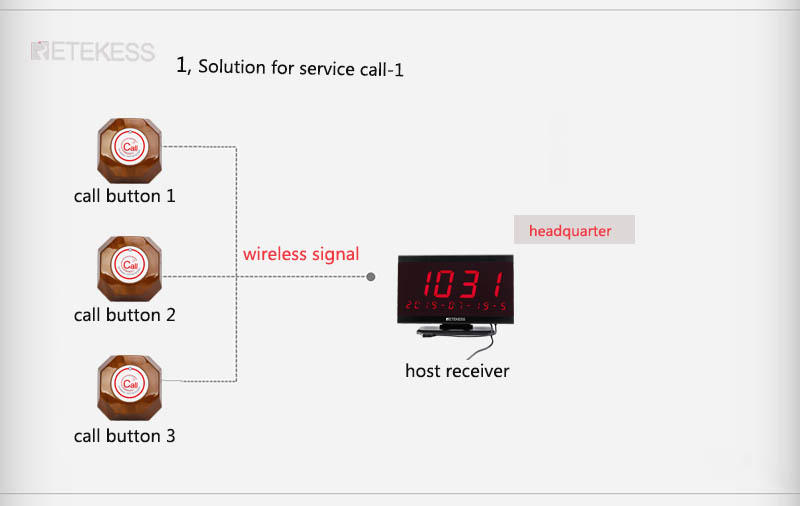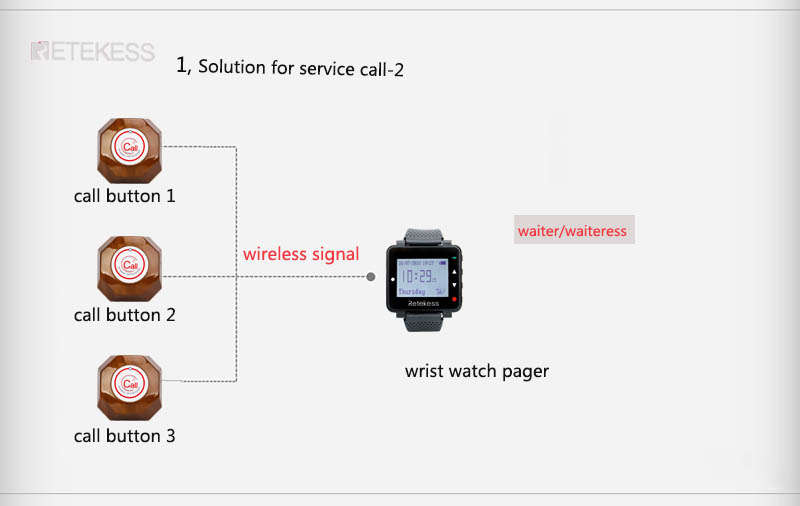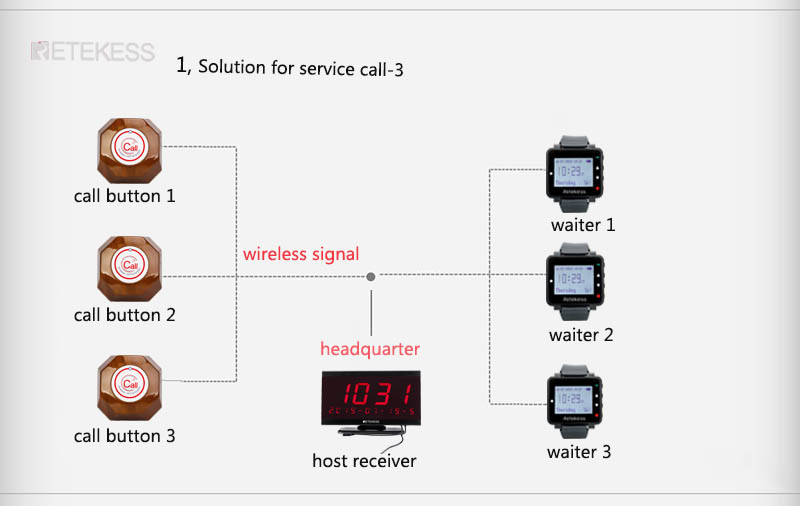 Please fill in your procurement needs and contact information
RF frequency: 433MHz
Modulation Mode: ASK (AM)
Working chip: learning code
Power: 12V/23A battery (included)
Working current: 17mA
Emission Distance: 500m (open area)
Working temperature: -10°C to 50°C
Size: 60 x 60 x 30mm / 2.3 x 2.3 x 1.2 in
Weight: 42g / 0.09lb