Are you a tour guide looking to elevate your guests' experiences and ensure seamless communication throughout the tour? Look no further than the innovative TT125 Wireless Tour Guide System. With its exceptional capabilities, this cutting-edge device guarantees smooth operations and enhances the quality of guided tours, even during long working hours.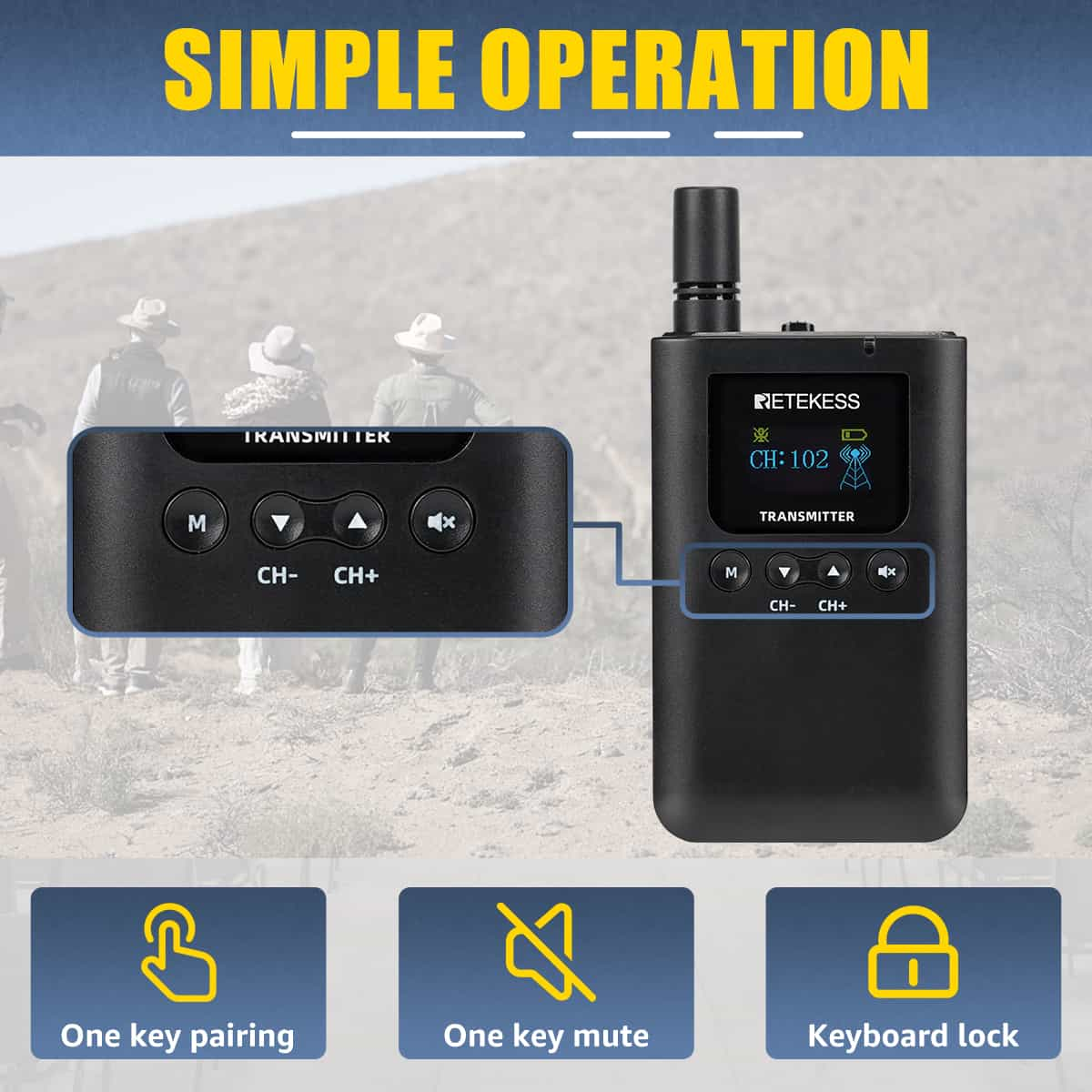 The TT125 Tour Guide System is designed to provide flawless wireless communication between guides and their groups. Its advanced technology allows seamless transmission of crystal-clear audio. Ensuring every word is heard by tour attendees—whether in noisy environments or vast spaces. Bid farewell to crowded, struggling tourist groups straining their ears to hear your explanations. With the TT125's impressive range, guides can easily connect with participants up to 150 meters away, fostering a comfortable and engaging experience.
Long days of touring are no match for the TT125 Tour Guide System. Built to sustain 80-100 hours of continuous operation on a single charge, this reliable device supports extended tours without interruptions or the need for frequent recharging. The system's robust design guarantees a rugged shell that can withstand inevitable bumps and knocks. Ensuring its longevity and effectiveness even in the most demanding travel environments.
The user-friendly nature of the TT125 makes it an invaluable tool for any tour guide. With its simple plug-and-play functionality, guides can effortlessly connect the lightweight headsets to the system. Additionally, the device's sleek design and intuitive controls make it extremely easy to operate. Furthermore, maintaining the system is hassle-free, thanks to its exceptional battery life and durable construction.
The TT125 Tour Guide System offers an excellent return on investment. Its superior technology eliminates the need for loudspeakers. Allowing guides to avoid extra costs associated with leasing or purchasing expensive audio equipment. Offering a reliable, self-contained solution, the TT125 system ensures tour guides can provide exceptional services while reducing additional expenses.
The TT125 Wireless Tour Guide System is the ultimate companion for tour guides. Boasting seamless communication, excellent durability, user-friendly features, and cost-effectiveness, this device guarantees improved tour experiences for both guides and participants. Embrace the advantages of the TT125 system and elevate your tours to new heights – improve communication, engagement, and customer satisfaction.