A tour guide system for schools is a device that helps teachers and students navigate through educational tours or field trips. It provides audio or video information to enhance the learning experience and make the tour more engaging for students. There are many reasons effect the system for schools. One of the reasons is the battery life of the tour guide system.
The long standby time endures it can endure an entire day of class or field trips for the parents. We use the new technology in TT125 tour guide system, which with a normal-size battery, but can work up to 80-100 hours for the receivers. I tested the TT125 by myself and make it in the working condition. So the working hour is the real working time.
Pls check the details of TT125:
Battery capacity
Both the transmitter and receiver are 3000mAh 3.7V, which is a little heavy than the normal one, but the size is still company, so to make sure the size of the transmitter and receiver.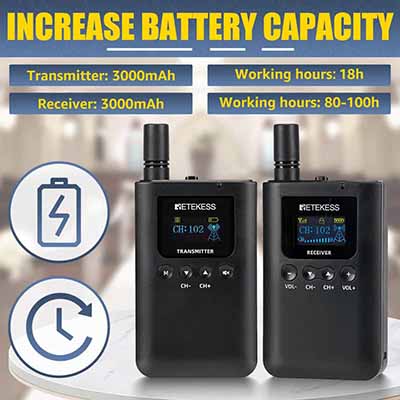 150M working range
You know there are many walls in the school, so the long working range is also important. 150M is the range that can work in the open area. If in a big classroom, the range may be short, but enough for use. Besides, if the parents are hanging out in the school, the range also enough to use.
Built-in microphone
In addition to these advantages, the built-in Mic also makes it stand out during the several models. It can make the sound more clear, so the students will not miss any words from teachers.
Overall, a tour guide system for schools aims to enhance the educational experience during field trips by providing audio or visual content, interactive features, and easy navigation tools. If you need any tour guide system for school, pls email us, we will check the best offer.