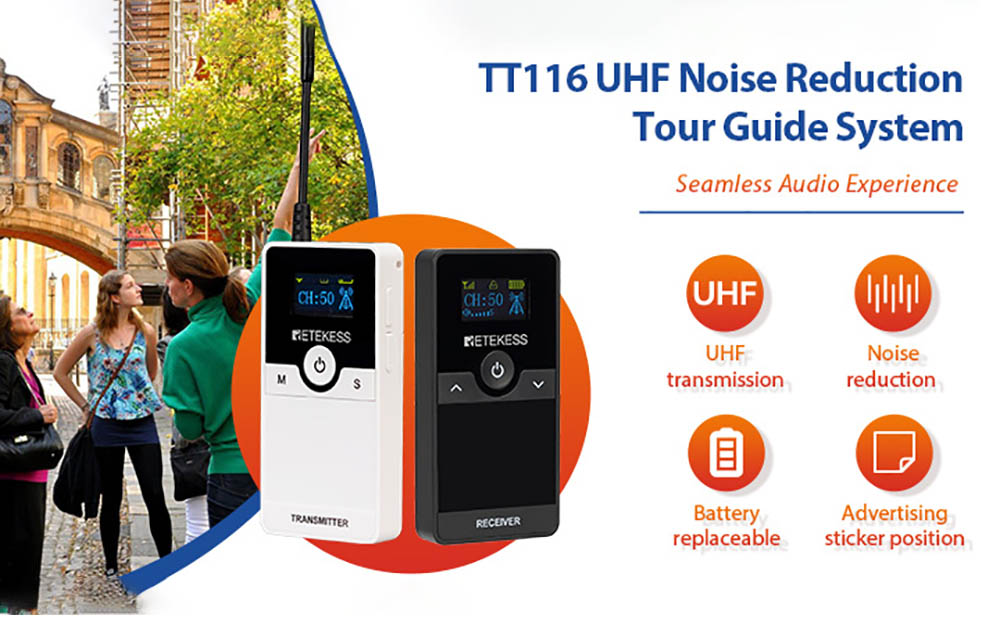 Retekess focused on the tour guide system for many years and we always study the marking and collect feedback from the customers. So we made the TT116 tour guide system and listed it in 2023. Let's check why choose the TT116 audio tour guide equipment
Replaceable battery

The TT116 audio tour guide system uses a rechargeable battery-BL-5C, allowing you to change the battery only. This is especially beneficial for full-day tours or events that require continuous audio transmission. The 1000 mAh battery support for 10-13 hours, if you still need longer, you can prepare a BL-5C battery in your bag and change it when the first one power off.
Superior sound quality
TT116 Tour Guide System adopts noise reduction technology to effectively filter out background noise. It will enhance the communication experience allowing participants to hear every word without any distortion or interference. So TT116 tour guide system can be used in the street, factory, and so on.
Location with advertising stickers
Most of travel agencies want to add their logo on the receivers to broadcast the theor brand. But most of our models don't support adding a logo freely, so when we made the item, we find a solution to add the logo freely. If you want more and more people to know the name of your travel agency, the TT116 is a better choice.
The TT116 Tour Guide System also offers additional features such as channel scanning, channel lock, and LCD screen display. These features make it easier for tour guides to control and monitor the system, ensuring a seamless and professional experience for both guides and participants.
But the 3 main reasons make it stand out among the Retekess tour guide system. It provides clear and uninterrupted audio, allowing tour guides to convey information easily, and participants to enjoy an immersive and informative experience. So if you need the system for your tourism, email us at support@retekess.com to get a better price for the anniversary promotion.
---