Why Choose TR510 FM Broadcast Transmitter?
As we all know the FM Broadcast Transmitter is booming since 2020.3. Many people use it for the drive-in Cinema/movie, drive-in church, drive-in conference, and so on. The TR507 is made at that time, once it is on the market, people are creasing to get one. Due to some reason, the item is out of stock for a long time. Since 2020.10, we upgrade the TR507 and make a new type of FM transmitter. Let's check the difference between the 2 models.
1, Color and size
TR507 with the 3 colors: golden, silver, and black. But the black one is the most popular, so we make the black one only. For the size, the TR507 is too big, it is about 273MM*193MM*70MM, but for the TR510, it is 233MM*140MM*40MM.
2, Preset Station
For the TR507, there are area keys on the FM broadcast transmitter, but can not be set, but for TR510, we update it, it can preset 3 channels, just need to press the keys by 3 seconds then the light will be red.
3, Stereo/Mono mode
The TR507 only has the Mono mode, but many people want to use the stereo mode, we update the feature on TR510, So you want to use it for the Small concert and care about the sound, TR510 is the best choice.
4, Set the emphasis based on your needs
For the TR510, Ir has 50μS/70μS, so you can choose it based on your needs.
5, Long Bluetooth working range
For the TR507, some customers said that the working range is short, so we update it using new technology, the Bluetooth working range for TR501 can up to 15M.
6, Latest chip QN8007, new technology
We use the new technology and new clip-on TR510, so the working range, Anti-interference ability, sound quality is much better than TR507.
7, 2 Mic ports
There are 2 ports for the Mic, it supports 1/4 inch Mic, and you can adjust the volume for the Mic only.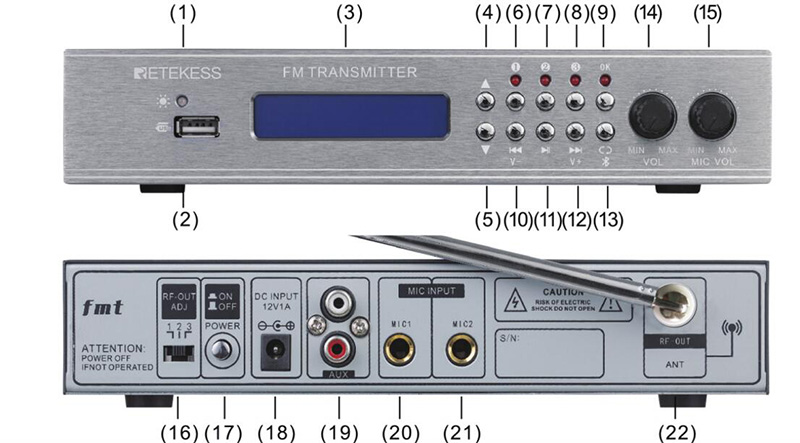 So if you want to choose TR510 for your activity,pls email us to get the best price. The email address is support@retekess.com