When it comes to visiting of any industrial site, the noise ratio is very high because of the massive production of materials and machine operation. If you have customers who want to visit the factory to see the plant and activities what factory tour guide system should you use?
Retekess focused on wireless communication for many years, we supply the one-way tour guide system and two-way tour guide system. Today, I will show the TT124 two-way system with more details and inform you why you should choose TT124 to be the factory tour guide system.
Two-way and one-way speaking mode
We have many types of one-way models, but TT124 is the only model, which supports two-way, it means that all the transmitters and receivers can speak and listen to each other. It solves many customers' problems. Due to that when the listeners want to ask a question, they can also speak. All the people can hear the sound and respond. So if you need two ways. the Retekess TT124 is the best model.
Stable signal
Retekess TT124 is with a built-in soft antenna. It is about 10cm, so the signal is very stable and can cross thick walls, obstacles, and so on. And the working range can reach 280M in the open area. The range is enough for many applications. It will be good for the factory tour, where there are many machines.
Easy to operate
All the transmitters and receivers with a mic that can talk and listen to each other, besides, the transmitters can transmit sound at any time. Such as when the listener is talking, but the speaker wants to Announce an emergency thing, he can speak directly. The transmitter can long press the transmitter to mute.
2 charging ways
On the transmitter and receiver, there are 2 ports for charging. One is the USD port and the other is the charging point.
If you bought several pieces you can charge them using the USB ports, and we will send the charging cable, but if you buy many, you can buy the charging case. There are 28-ports. All is based on your needs.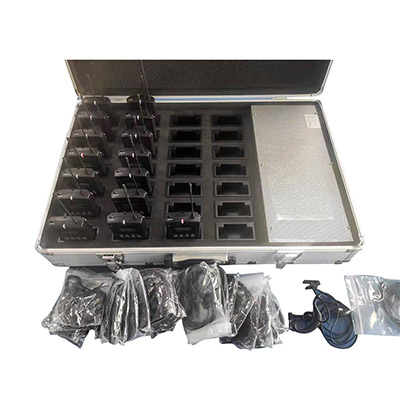 Retekess TT124 is the best model for a factory tour guides, which will help people understand each other. If you need the tour guide system for your business using, pls contact us to get more details.