Retekess TT105
Audio Guide System for HAJJ &Umrah Pilgrimage
Every year in the Islamic calendar in December, tens of millions of Muslims from all over the world come to Mecca holy place for pilgrimage. The wireless tour guide system is widely in this time.
If you are the guides who are distressed by crowded people, noisy sounds to customers. I advise TT105 Wireless tour guide transmitter and receiver. Let us see the features Retekess TT105 tour guide system wireless guide system.
1, Adopt 2.4GHz wireless technology
The 2.4GHz technology is widely used for wireless tour guide systems. The most important is that it is free in the whole world.

You can use it any time and anywhere. Besides, it has a stable signal and long-range. For TT105, the working range can up to 50-60M in the open area.
2, Large battery
TT105 transmitter built-in 1500mAh rechargeable lithium battery, long battery life about 10 hours after fully charged; Receiver built-in 1000mAh rechargeable lithium battery, long battery life about 12 hours after full charged. You can use it for the whole pilgrimage in one day.
3, 50 channels to choose
Each wireless tour guide transmitter channel can work with hundreds of tour guide receivers. So if there are many groups guide for pilgrimage, you can change them in the different channels to avoid interference.
4, Easy to set.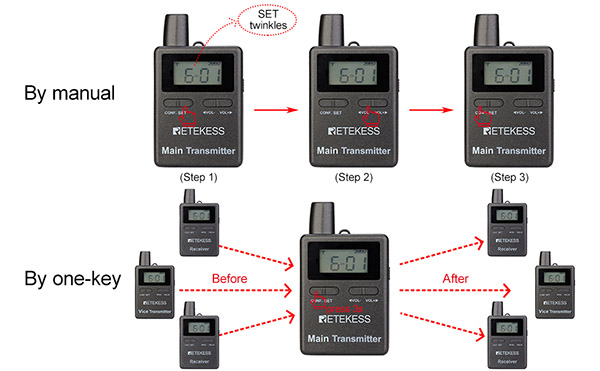 5, 2 wireless tour guide transmitters work with all the receivers in one group at the same time.

For the Retekess tour guide system, only TT105 and TT106 with the features, so that is the main reason wht the TT105 is very popular.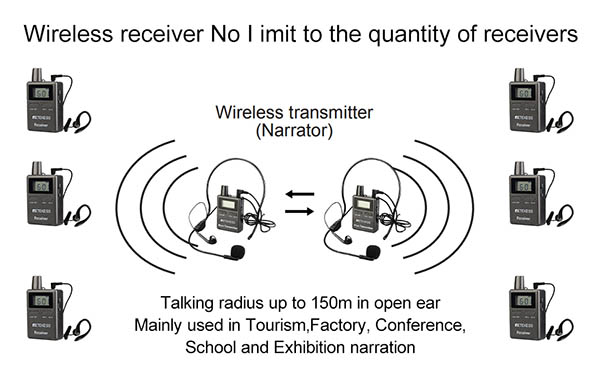 TT105 Retekess tour guide system is widely used in many other applications, such as learning & training, church translation, factory visit, small meeting, Christmas conferences, horse riding training, and so on.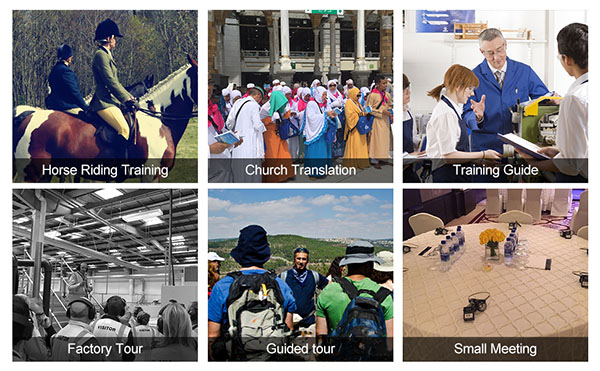 In addition to the TT105, there are more than ten different models of retekess tour guide systems with different operating ranges, battery capacities, and functional features, so there's one to suit your needs!