How does the chef call the waiters to get the food in time?
As we all know, the efficient service is very important at this time to win customers. So supplying the food in time is very important. Retekess TD112 kitchen calling system will help the chef to call the waiters in time.
TD112 watch receiver for waiters
Retekess TD112 watch receivers are the IPX7 waterproof level, so the waiters can wear them anytime, no need to worry about the watch receivers will be broken when dropping some water. Besides, for the mode of the TD112 watch receiver, you can choose General, Single B and Choose R. If you use it in the kitchen, you can choose Mode as Single B. And for the showing name, you can set it via the software, then import to the watch receivers. Such as you can name it "Kitchen" or "Call".
Kindly note is that the mode of General and Choose R can coexist, but can not with Single B. Such as if you rename it as the kitchen in Single mode when you pair the watch receiver with other call buttons on the desks, you will not find the name. But if the mode is Genera and Choose R, the name can be shared.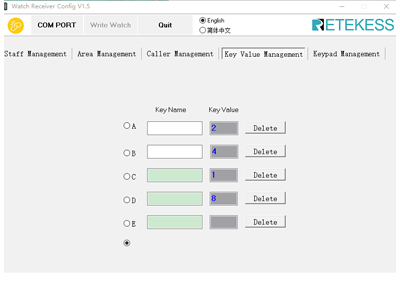 For the call buttons, if you run a small restaurant and have less than 5 waiters, the TD005 call buttons is the best choice. The important is reason is that the cost of TD005 is very small, the other is that the working range of TD005 is very long, due to that there is a long antenna with the TD005, so the signal is very stable.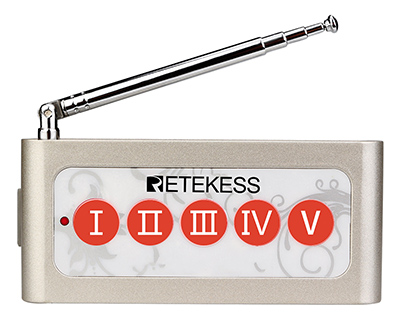 One key can pair with one waiter, who wears the TD112 watch receiver. So it can work with 5 different waiters. But it don't mean that the call buttons can work only 5 waiters, you can pair any key with any watch receiver, there is no limitation on the quantity for the call buttons. It based in the watch receivers, such as one watch receiver can work with 999 buttons. If you have any questions, pls feel free to email us at support@retekess.com.