TV headphones are assistive listening devices designed to help people with hearing impairments watch TV. Most of these devices look a bit like a doctor's stethoscope: two earbuds are inserted into the user's ears, while a headset hangs below the user's chin. Specifically, TV headphones work as sound amplifiers that deliver audio from the TV set directly into your ears. A transmitter plugged into your TV set sends the TV audio to a receiver in the headset, which then sends it to the earbuds and into the user's ears. Most TV headphones also contain technology that helps clarify and amplify speech, so that users can more easily understand spoken dialogue.
Retekess listed TA005 before and the feedback from the customers is positive, so to win more and more market, we developed one new model-TA006 wireless TV headphones. We collect the feedback and make the new item, pls check the good features for the TA006 TV headsets.
Display screen
Most of the customers said that they can not see the power of the TV headphones, so they may power off when the elder is using them. That will be not friendly. So we list the TA006 with the screen, and you can check the power clearly when you put the headset in the charging base. Besides, you can use the other way to charge it.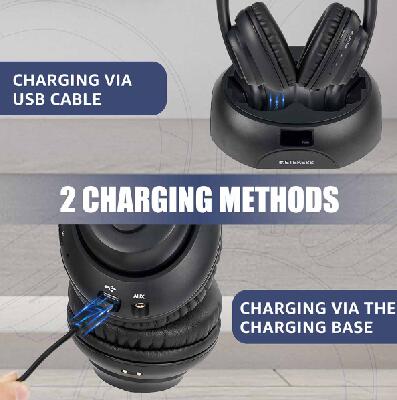 Long working time
The working time is up to 8 hours, so it allows you to watch and listen for long periods of time without frequent recharging. No need to charge them all the time.
Long working range
The range is up to 30M/100ft, so you can hear clearly in the room and walk in the room freely. Besides, the stereo model makes the sound great. You can sit on the couch comfortably and enjoy life.
During the anniversary promotion, we have a big promotion and it is up to 16.4%. So if you want to buy any TV headphones for your parents, the TA006 is the best choice.
We also supply wholesale prices, so if you want to find any supplier for the TV headphones, you can also choose Retekess.