Category Archives :Product Introduction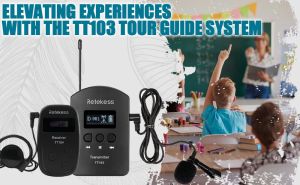 Explore the versatility of the TT103 Tour Guide System, a wireless audio solution revolutionizing communication. With advanced features like 200 channels, extended battery working time, and PLL technology, it ensures clear and uninterrupted transmission. From inclusive church services to noise-resistant plant tours and multilingual learning in schools, TT103 redefines communication in diverse settings, delivering seamless and immersive experiences. ...
Read more
TT103 Tour Guide System
,
TT103 Tour Guide Audio System
,
TT103 Wireless Audio Tour Guide System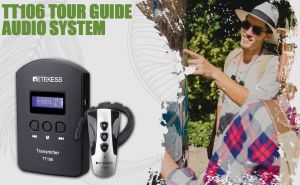 Explore the TT106 tour guide audio system, a high quality product featured by the dual transmitters, 9999 channels, a 150m work distance, and intuitive controls. With extended battery service time and portability, it can transmit radio communication in various settings, from historical tours to business conferences. Uncover how TT106 redefines audio excellence, offering a seamless blend of features for an unparalleled experience. ...
Read more
TT106
,
tour guide audio system
,
TT106 tour guide audio system