Do your students have difficulty hearing the instructor because of noisy environments, distractions, or distance from the instructor? Or maybe some of your students are hard of hearing? the wireless training system may be perfect for your school or university.
The wireless training system is a new type of voice transmission electronic device that allows for real-time voice transmission.
In large classrooms, outdoor classes, or during lectures and conferences, the instructor's voice can't be heard by students who are far away, making it impossible for them to focus on what is being taught in the classroom, which can affect the effectiveness of instruction.
In order to solve this problem, some institutions use public amplifiers or amplified microphones, which do have a certain degree of attractiveness and information dissemination, but they can also cause damage to students' hearing and produce noise pollution. Therefore, it is really not a wise choice for teachers to use loudspeakers for classes or amplified microphones.
The ideal approach is to use the TT109 wireless coaching system, which has a transmission distance of 180 meters and clear sound quality. The teacher wears a transmitter, the students wear a receiver, and the teacher speaks in front of the class so the whole class can hear clearly.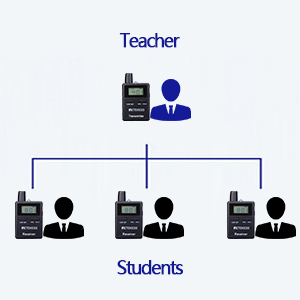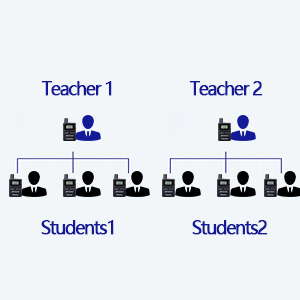 TT109 whispering guide system adopts 2.4GHz communication frequency, the information is sent and received stably, and the sound quality is stable; in order to solve the discomfort of students wearing and using the explainer for a long time, the audio guide system is extremely lightweight, and the wireless transmitter and receiver support free volume adjustment, bringing comfortable use; easy to use and set up, no tedious operation steps It is plug-and-play. It has 50 channels, which means that 50 different teaching groups can be set up in the same area, so if multiple teachers in a school use the product at the same time, there will be no communication interference before the different groups; the TT109 transmitter supports auxiliary audio input, which can connect to external audio devices such as computers, cell phones, MP3s and radios, and play music or voice files from the audio devices to the students wearing the receiver. Receiver students, which can enrich the teaching format and enhance the classroom interest.
By the way, the TT109 wireless training system is one-way and it may not be suitable for seminars that allow students to ask questions and have open discussions. That's OK, our TT124 two-way tour guide system allows the transmitter and receiver to communicate in both directions, and all students in the classroom can hear what the teacher and a particular student are talking about. So, if your school favors discussion-based classrooms, it's an ideal solution.
In fact, Retekess wireless communication systems can be used for more than just classroom instruction; they can also serve all activities inside and outside the classroom, such as study tours, college conferences, campus trips, sports practices, and more.
If you have any questions or needs, please feel free to email us at support@retekess.com and one of our professional customer consultants will be happy to serve you.