What is the wireless paging system included?
There are keypad, adapter, charging base, and pager. You can buy the pagers based on your need. Such as 10, 15, or 20 pieces. Most of our items are with the original 10pcs pagers. If you need more, you need to contact us at support@retekess.com to get the price for the additional pagers and charging base. The kindly note is that one charging base can charge 10 pieces of pagers one time.
The good news is that in 2021, we have one new arrival type with a 20pcs pager-TD163 wireless guest paging system.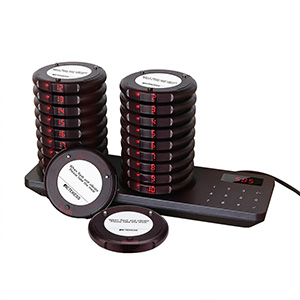 The wireless paging system is widely used in restaurants, food trucks, clinics, hotels, and so on.
But recently, some of our customers asked can we use it in the meeting, conference, club or other places where need to mention the time left.
So we choose 2 types as the best choice: TD156 and TD103 guest paging system.
Because you can set the " Service Countdown" (F6)to this system, you can set the time from 0-99 mins,0 means turn off the promotion, so you can set the number from 1-99. When you enter function 6, you can set a number then press confirm. The pagers which are in the charging base will vibration and beep, which means we had set it successful. But the most important thing is that when you set it, you need to pair the ID again, to make sure the instruction will work on these pagers. After that, it will work.
So if you want to give the pager to one speaker, and also want to mention that your time is only 5 mins left, you can call the number for the first time, the pager will get the signal. 5 mins later, the pager will prompt again, until the speaker return the pager and put it in the charging base.
Hope that Retekess products will help your business and improve the working effectiveness.
If you want to know more about Retekess products and find the best solutions for your business, pls feel free to email us at support@retekess.com.